The Fight for Life boxing event ended 2018 with extraordinary action. The main event saw Christian Pharo, San Diego Fire Lifeguard capture the UCA Jr Middleweight title and the co main event featured Kellen Kramer Bell Gardens Police Dept. defending his UCA Middleweight title and keeping his perfect record intact. The under card featured a talented cast of fighters who fans will be soon talking about.
The night started off with two fighters making their ring debut Fidel Carreno, LAPD Academy vs Charles Smith, LASD. Both guys started off slow feeling each other out. Toward the end of the round Carreno started to back Smith up and hit the target with his punches. Smith started out the 2nd round str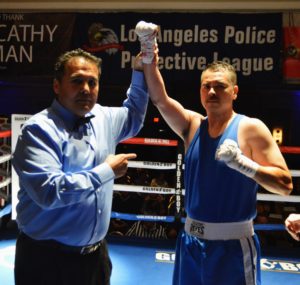 ong coming forward and landing punches of his own. Tied up 1-1 going into the 3rd. When the bell rang to start the 3rd Carreno put the pressure on Smith and Smith started to slow down half way through the round, it could be from the body work by Carreno in the 1st and 2nd rounds. This fight would go the distance and Carreno would pick up his first win by decision
The 2nd fight of the night featured a rematch between Aurelio Vasquez, LAPD vs Brian Petrella, Pasadena PD. Vasquez leads the series 1-0. When the bell rang Vasquez came out very relaxed and patient, different from the nonstop, throwing punches in bunches style we are used to. Petrella didn't have an answer for the precise calculated Vasquez. Petrella started to put a little heat on his punches in the 2nd rd. but couldn't land anything clean. Down two nothing Petrella would need a knockout in the 3rd round to win. Vasquez stuck to the game plan, keeping his composure, using good footwok, a tight defense and throwing straight punches. Petrella may have been confused by Vasquez's new style he could never really find his rhythm. Something happened during the last 15 seconds of the fight. The game plan went out the window, Vasquez and Petrella planted their feet in front of each other and started throwing lefts and rights with very bad intentions. When the bell sounded both fighters remained standing and once again Vasquez would defeat Petrella by decision.
Bout 3: Manuel Mindieta, LAPD vs Ismael Opina, LASD featured two evenly matched fighters making their ring debut. Even first round, Mindieta may have stolen the round in the last 10 seconds by backing Opina to the ropes with a 5 punch combination. Opina came out in the 2nd round throwing 3 punches to every one punch thrown by Mindieta. Opina turned it up even more in the 3rd round. Both fighters showed good fundamentals but Opina was too busy. Opina winner by decision.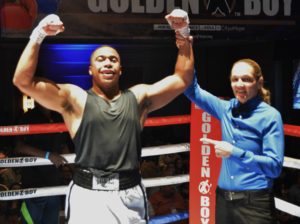 Bout 4: Shawn Baker, LAFD vs Efrain Moreno, LAPD featured two skilled big men. When the bell rang Baker came out of his corner firing on both cylinders backing Moreno up with heavy leather. Moreno used his footwork and defense to stay out of danger. Baker continued to push a fast pace in the first round, could he keep it up? Baker came out strong in the 2nd but started to fade toward the end of the end of the round. Moreno was able to establish his jab and land some clean punches. Whoever wins the 3rd round wins the fight. Baker took full advantage of the 60 second break. He came out strong to start the 3rd round throwing punches in bunches and not giving Moreno a chance to establish his offense. Baker winner by decision.
Bout 5: featured a rematch between Daniel Rosales, LAPD and Alex Perez, La Habra Boxing Gym. Perez is a decorated amateur who is ready to turn pro. Perez won the first meeting and Rosales had revenge on his mind. Very close 1st round with Rosales edging it out. Close 2nd round slight advantage Perez. Perez and Rosales showed high level stuff. These guys are always in position and as soon as one of them makes a slight mistake they are ready to take advantage of it. Even fight going into the 3rd. Rosales continued to put the pressure on Perez and throw hard punches. When the last bell rang Rosales would pick up the win and even the score.
Bout 6: When two female fighters step into the ring fans can expect an all action fight and that is exactly what Kaylee Sicaros, LAPD and Destiny Moreno, LASD delivered. These ladies threw punches from bell to bell and never backed down. Moreno was a little more polished but that didn't prevent Sicaros from backing down. She is tough as nails and was not affected by the hard punches landed by Destiny. Kaylee is trained by Aurelio Vasquez and Quincy Mirage so you know she has to be tough. Sicaros was down two nothing going into the 3rd and continued to bring the fight to Moreno but it wasn't enough. Moreno was just a little bit better on this night. Moreno winner by decision.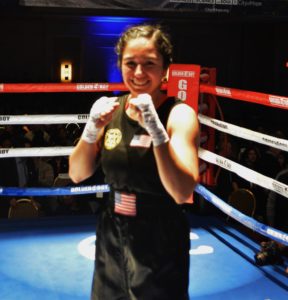 Bout 7: Brian Smith, LASD vs Charles Medrano, LAPD featured two fighters making their ring debut. Medrano threw a good variety of punches and good counter hook. Smith had his moments in the fight landing punches of his own. Medrano kept backing Smith up not giving him a chance to breathe. Both fighters showed good skills in their first fight but the pressure and heavy punches thrown by Medrano was the difference. Medrano winner by decision.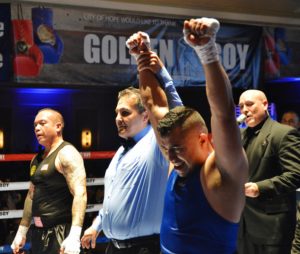 Bout 8 Alberto "The Pit Bull" Tapia, USC Police Dept. vs Remin Pineda, LASD. Holy smokes they don't call him the Pit Bull for nothing. When the bell rang Tapia jumped on Pineda and did not let up. In the 2nd round Tapia showed he can brawl and box. He used good footwork and did good work behind his jab. In the 3rd Pineda started to put the pressure back on Tapia but it was too late. Tapia winner by decision.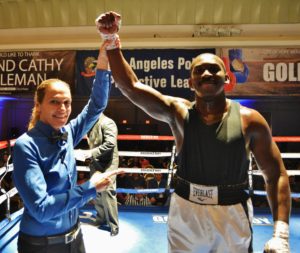 Bout 10: Zane Archer, LAFD vs Jose Garcia (Civilian) Archer is a hidden gem in public safety boxing. He is a heavyweight but moves like a middleweight and showed great skills in his first fight. Garcia was waiting to land one big shot while Archer continued to throw punches and rack up points. Archer winner by decision.
Bout 11: The UCA Light Heavyweight Title fight between Jorge Caamal, LASD and Gabriel Flores, LAPD was canceled at the weigh in but Flores still wanted to fight. In less than 24 hours an opponent was found for Flores. Civilian fighter Abraham Cruz from the LASD Century Sheriff's Station Gym stepped up. When the first bell rang Flores showed good footwork and used his jab like a surgical tool. He showed great composure and looked like a fighter with 20 fights. He did a good job of setting up his punches going to the body and head. Cruz was aggressive and was throwing punches with bad intentions. This fight would go the distance and Cruz would pick up the win.