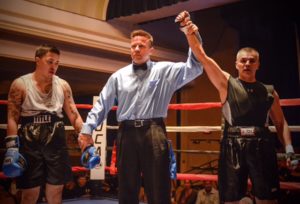 What a night of action at the SoCal Battle of the Badges Saturday October 7, 2017 at the Pacific Palms Resort and Hotel. It was the perfect stage for two UCA Championship title fights, fighters making their ring debut and fighters continuing their climb up the division ladder. The night started off with Aaron Padilla, CDCR, San Quentin Prison who was making his ring debut against 2nd ranked Alex Duran, U.S. Border Patrol. This was a boxer vs brawler match up with Padilla being the boxer. Padilla is a crafty fighter with good footwork. Duran's style is to press forward and attack and that's what he did. Padilla would have his moments but the pressure was too much. After Padilla was given two standing 8 counts due to exhaustion the referee waved off the fight in the 3rd round. Duran would pick up the TKO victory and take over the #1 spot in the Masters Welterweight division. Padilla is still polishing his style but he showed good fundamentals and composure in his first fight. Someone to keep an eye on.
Next up was the only female fight on the card. This matchup fea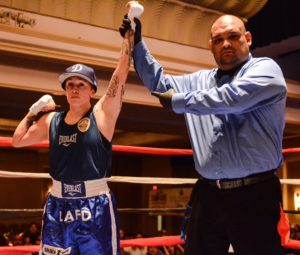 tured two fighters stepping into the ring for the first time. Jessica Ortiz, LAPD vs Katrina Kim in a battle of lightweights. When the bell sounded Ortiz came out of the blue corner looking to land a one punch knockout blow. Kim was a game opponent and avoided the heavy blows thrown by Ortiz, This was a fast paced fight with a lot of punches thrown, mostly by Ortiz. After Kim received two standing 8 counts in the first round the referee kept a close eye on her. Ortiz came out in the 2nd round just like the 1st, throwing punches in bunches forcing the referee to step in and stop the fight. Ortiz winner by TKO in 2nd round. Ortiz put on an impressive performance and could be the future of the Lightweight division.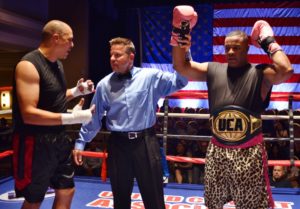 The Masters UCA Super Heavyweight title was up for grabs as the Champion Sean Johnson, CDCR, KVSP looked to make his first title defense against #1 ranked David Ross, CHP. When the bell sounded Ross came out using good footwork and his reach advantage. 30 seconds into the fight Johnson threw a flurry of punches backing Ross against the ropes. Surprisingly, the referee stepped in between the fighters and stopped the fight. Johnson winner, 1st round TKO. And still…The Masters UCA Super Heavyweight Champion. After the fight Ross said, "I felt it was an early stoppage. I didn't even get an opportunity to battle. At least a standing 8? I'm more disappointed I didn't get a chance to fight than I am about losing the fight. I saw guys get numerous 8 counts while continuing to get pummeled and the referee didn't stop the fight. I prepared for a fight. I knew I was going to get popped but I also knew he was going to get popped. Not the way I wanted my career to end. Especially after the progress made. Please know I'm not angry or even frustrated, just heartbroken. Just give me a chance"
What we have all been waiting for is finally here. The rematch between the undefeated UCA Super Middleweight Cha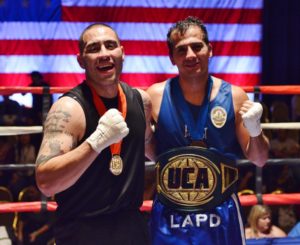 mpion Mike Valle, CDCR PVSP vs #1 Ranked Quincy Mirage, LAPD "Repeat or Revenge" During training camp both couches predicted a knockout. Half way through the first round it looked like their prediction would come true. Valle was landing vicious uppercuts that were driving Mirage's head back. The referee was forced to step in after a clean uppercut momentarily stunned Mirage and gave him a standing 8 count. Once the count was completed the cobwebs were clear and Valle and Mirage were back at it trying to knock each other's head off. You can't ask for a bigger heart than what these fighters showed they have. Back and forth, give and take for 3 nonstop rounds. This was a legendary fight that will not be forgotten. This one is going to the score cards. Did Mirage do enough to take the champion's title? Will Mirage get the decision in his hometown? Was the standing 8 count in the first round enough to seal the victory for the champion? It wouldn't be boxing without a bit of controversy in the results, right? And once again…And the New…..UCA Super Middleweight Champion Quincy Mirage, LAPD. We are now tied up, one win a piece. One word sums up this fight, Trilogy.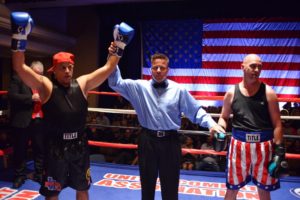 The UCA #1 ranked Masters Cruiserweight Edward Espinoza, Orange County Sheriff's Dept. squared off with Fugitive Recovery Officer, Mike Tupa who was making his ring debut. Espinoza's experience advantage showed early. Espinoza seem to hit Tupa with everything he threw. Tupa showed a lot of heart. He was knocked down 3 times and got right back up, there was no quit in Tupa. The fight would go the distance and Espinoza would pick up the unanimous decision victory and extend his undefeated record to 4-0.
The UCA #1 ranked Super Heavyweight Justin Robin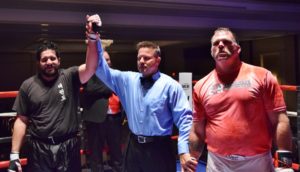 son, Camp Pendleton Fire Dept. suffered a shocking defeat to Security Officer, Robert Martinez. Robinson hasn't fought in 3 years and wanted to take a tune up fight before his UCA Super Heavyweight Championship title fight with the newly crowned Champion Chris Dubiansky, CPFD. Robinson was given a total of 3 standing 8 counts before he was able to get the ring rust off. Robinson started to look like himself late in the 2nd and 3rd round. But it was too late. Martinez was too far ahead on the score cards for Robinson to catch him. Martinez winner by decision.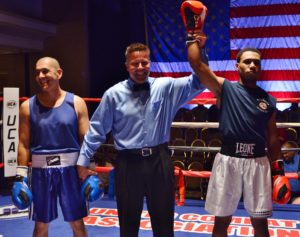 Middleweight Kevin Dunbar,a Firefighter from BLM Palm Springs made a good first impression in his ring debut. He showed lighting speed, power and a killer instinct. Dunbar is a humble 24 yr old who trains out of his garage and shows early signs of becoming a champion. It will take someone in the top ten to test him to really get a read on his ability. Dunbar winner by 1st round KO.