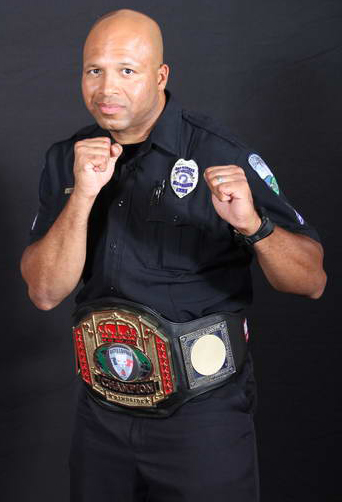 Anthony Deshautelle
Alexandria Police Department
Fighting Weight: 220-230
Age: 47

1.When did you start boxing? Golden Gloves 1990-92… Battle of the Badges 2007
2.Who or What got you started in boxing? I took up boxing as a competitive outlet and quickly became my favorite workout. I now enjoy representing the Alexandria Police Dept, state of Louisiana, and helping charities.
3. The best boxer you ever sparred against? Lamon Brewster
4. Of all your opponents and sparring partners who hit the hardest? It's hard to determine who hit the hardest but if I may change the subject to physical and mental toughness… JR Moore
5. What do you like to do when not training or working? I spend as much time as I can with my kids. I enjoy teaching, guiding, and watching them grow.
6. Favorite fighter? Muhammad Ali… Sugar Ray Robinson was the best but his ability was never questioned. Ali won at least two epic fights (Sonny Liston, George Foreman…) when the odds were heavily against him.
7. Favorite all time fight? Leonard – Hearns I Classic matchup between 2 Hall of Fame fighters at the prime of their careers.
8. Favorite athlete? Jackie Robinson
9. Favorite food? Louisiana food… Best in the world… Who Dat!!!
10. First job? Construction laborer
11. First car? Silver T-Bird
12. Person you most admire? Bill Slayton. Great trainer. Great man… RIP