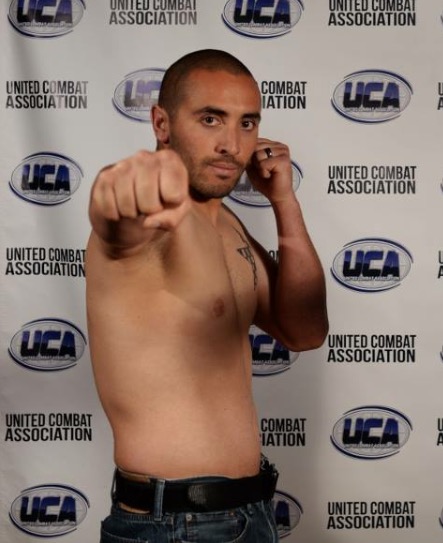 Brent Pavey
Federal Bureau of Prisons
Fighting Weight – 190lbs and eventually 183lbs
Nickname: My coach came up with the name (The Hammer) after the TKO,
One of my good friends from work months before the fight while we were standing morning mainline,he knew I had heavy hands, so he was trying to think of a nickname with a train, and about 5 names later he came up with (Train Wreck), and he started saying my name out loud like Micheal Buffer does! Had us all laughing! I told him, bro let me get my 1st fight in, and he said "You'll have no problem!" After the fight, my buddy (Adam) who was there posted the beginning of the 3rd round Brent the (Train Wreck) Pavey! On FB.

When did you start boxing? February 2, 2015, we went out for dinner for my dad's birthday, and their was a boxing gym across the street, checked it out after dinner, started the following Monday.
Who or what got you started in boxing? The person that got me into boxing was my dad! He always wanted me to box since I was a child but I never took interest in it until the age of 28, due to politics at work at the time! Wanted to release some anger and stress!
When preparing for a fight what gym do you train at? When I prepared for my 1st fight which I plan on doing the same for my future fights, Coach Moe's Boxing gym for 2 1/2 hours for 4 days, 5.3 miles five days a week, 600 sit ups, 300 push ups, 200 leg lifts, following the month of the fight, the week of the fight I would go to Inshape with the wife at 4am and would do 3 min rounds inclined (15) on the treadmill at a 5.0 mph pace and 1min break is a walk at 2mph. At (15) incline, and last a hike in Yosemite within the week of the fight! So the gyms I train at when I prepare for a fight, Team Moe's boxing gym, Pavey house, Inshape, the streets (road work), Yosemite National Park!
Who is your trainer? Ron Moe, Rick Munoz Sanchez
Of all your opponents and sparring partners who hit the hardest? James, he quoted if you can take a hit from me and recover you can take a hit from anyone!
What do you feel is your strongest weapon in the ring? Constant pressure, right cross, over hand right, feints, and just staying calm!
What do you like to do when not training or working? Spending time with the wife and kids.
Favorite fighter? GGG, Lomenchenko, Roy Jones Jr, Kostya Tszyu, and Arturo Gatti!
Favorite all time fight? Arturo Gatti vs Micky Ward (1st fight)
Favorite movie? Tombstone (1993)
Favorite athlete? Bruce Lee
Favorite food? The wife's home made enchiladas
First job? Mechanic (Merced PowerSports)
First car? 1994 Ford Explorer (black)
Person you most admire? Les Brown (motivational speaker)
If your not willing to risk!
You cannot grow!
And if you cannot grow!
You can not become your best!
And if you cannot become your best!
You cannot be happy!
And if you cannot be happy!
What else is there!You don't have to be great to get started,
But you have to get started to be great!
Les Brown