C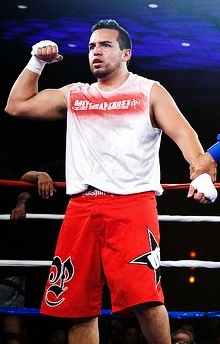 arlos Vega
Orange County Sheriff's Department
Age: 33
Nickname: The Disciple
Record: 3-1

1. When did you start your career in public safety? I started my Law Enforcement career in 2008. God opened the door to this career and there is nothing else I would rather be doing.
2. When did you start boxing? Probably about 4 years ago and I have been boxing on and off ever since.
3. What got you started in boxing? I have always liked stand up wars and competition, so boxing was a good fit.
4. What gym do you train at? For all of my fights so far I have trained out of my garage. I still have the desire to compete, so my wife told me the only way that is going to happen is if I am 100% serious and find a good gym to train at. So I am looking right now and plan on fighting again in 2016.
5. Who is your trainer? I have been training myself and have maybe had a handful of training sessions with Alex Cornejo on the mitts.
6. Who is the best boxer you ever sparred against? I went a few rounds with this southpaw. I don't think he weighed more than 145lbs but every time the guy hit me I saw stars. He was fast and hit like a truck. I think his name was Tony but he hit me so hard I forgot.
7. Favorite music artist? I do not really have a favorite artist. I listen to a lot of Christian music and my wife really likes country music so I listen to that too.
8. Favorite fighter? George St. Pierre, he has great cardio and technique. On top of that he works hard and is very humble.
9. Favorite all time fight? Forrest Griffin vs. Stephan Bonnar
10. Favorite movie? Gladiator
11. Favorite place to eat? Ancho's, if you're ever in Riverside, CA you have to check this place out. They have great food and have a tortilla machine in the middle of the restaurant. Now I am hungry…
12. First job? My first job was painting houses, my neighbor owned his own business and I worked for him for a few summers.
13. First car? Suzuki Swift, my grandpa gave me this car. It was stick shift and I had no idea how to drive stick, I learned on the drive home. What a great little car probably my favorite car I have ever owned.
14. What do you like to do when not training or working? God has blessed me with a great family so I like to spend my time hanging out with them. I like to be outdoors and spend time with my wife and kids.
15. Person you most admire? I have to pick two people here, my mom and my wife. My mom taught me to work hard and to have good ethics. My mom is an amazing woman and always put my sisters and my needs way before herself. Then there is my wife she is a beautiful woman who treats me and the kids so great. She is intelligent, funny and smoking hot. I thank God for giving me such a great mom and an amazing wife.