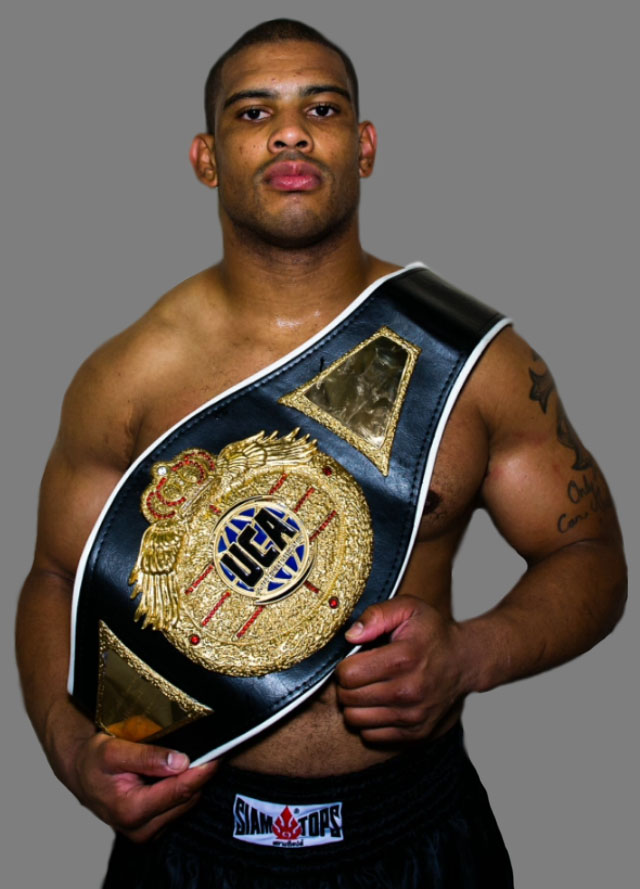 Chris Lewis
Fresno Sheriff's Department
Age: 27
Nickname: "The Law"
Record: 7-0 Muay Thai, MMA and Boxing

1. When did you start boxing? I used to go to Ringside Boxing gym with my dad when I was a kid. Wrestling took up most of my childhood through high school so I never had a chance to dedicate much time to boxing. I did not formally start boxing until I was 24. My first boxing match was the UCA battle of Badges in Hanford in 2014, I was 25.
2. What got you started in boxing? My dad boxed when he was a young man. When I was a kid he would take me to the local boxing gym. He would always watch boxing and have friends over for the Mike Tyson pay per views. He exposed me to the sport and I have always enjoyed watching boxing. The problem was my Mom did not want me to get beat up so I had to settle for wrestling which ultimately was my calling card considering the success I had. Fast forward to 2013 I started working out with close Family Friends Pat and Nathan Roberts in their garage to learn some good self-defense
3. What gym did you train at? Buhawe Fighting Alliance, Pat's Garage, GB3
4. Who is your trainer? The fight business is more than just training. It takes a team effort. Pat Roberts oversees my training Appolonio "T" Fernandez is my boxing coach, Jasper Tayaba is my Muay Thai/MMA coach, Nathan Roberts is my strategist
5. Who is the best boxer you ever sparred against? Grandson Clark is the best boxer I have sparred with. He gave me an education, matter of fact he still does! I'm closing the gap though.
6. Of all your opponents and sparring partners who hit the hardest? Lavar "BIG" Johnson
7. What do you feel is your strongest weapon in the ring? My preparation I have excellent coaches. Also my demeanor is a strong weapon. I do not get nervous. I have played football in front of 90,000 people in college on a few different occasions. I have wrestled in the CIF California State Finals, The Cadet Fila National Finals, and Junior Olympics in Germany during my High School years. Plus I enjoy competition why not have fun.
8. What sports did you play in high school? I wrestled and played football at "The Clovis West High school". I won the 5 counties invitational "Beast of the West tournament" which is ranked the 2nd or 3rd toughest tournament in the country. I took 2nd in CIF California State Championship. I won the Cadet Fila National Championship. I wrestled in the Junior Olympics in Berlin Germany where I placed 3rd. I graduated High School ranked as the #2 Heavyweight wrestler in the country. I had scholarship offers from every Major wrestling school in the country. In football I played on Varsity 3 years. I received California All State honors 3 years in a row as a defensive end. I was ranked the # 8 Defensive End in the country in high school. I was offered by almost every school in the country including USC, OREGON, FLORDIA, and OHIO STATE. Ultimately I chose to attend the University of Miami "The U". I was there for a while, there were a lot of bad things going on (watch ESPN 30 FOR 30), I also missed my mom and decided to come home and play for Coach Hill and the Fresno State Bulldogs.
9. What do you like to do when not training or working? Hang out with the family. Sleep.
10. Favorite fighter? Favorite boxers are Floyd Mayweather or James Toney
11. Favorite all time fight? Favorite boxing match Floyd Mayweather vs Emmanuel Augustus
12. Favorite movie? James and the Giant peach
13. Favorite athlete? It was Donavon Lewis but he is retired now. So my new list is Sienna Lewis, Niko Lewis, Adonis Octavien, and Amani Baker. You won't hear about them for a few years, stay tuned.
14. Favorite food? Mom's Gumbo
15. First job? Jacks Carwash
16. First car? 72' Cougar with a 351 Cleveland, sitting on wires.
17. Person you most admire? My Parents