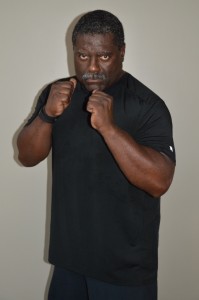 Darrin Ellis
Kings County Sheriffs Dept.
Weight: 250lbs
Age: 50
1. When did you start working for Kings County Sheriff Dept? 25 years
2. When did you start boxing? A week ago
3. What got you started in boxing? My friend fought in BOTB last year. It's been kind of a bucklist item for me.
4. What gym do you train at when preparing for a fight? I train at V.Q. Fitness in Hanford
5.Who is your trainer? Joe Lopez
6. Who is the best boxer you ever sparred against? Have not sparred yet
7. Favorite music artist? Pat Benatar
8. Favorite fighter? Evander Holyfield
9. Favorite all time fight? Thomas Hitman Hearns vs. Marvelous Marvin Hagler
10. Favorite movie? The Godfather II
11. Favorite place to eat? In n Out
12. First job? Red Carpet Car Wash
13. First car? 77 Toyota Corolla
14. What do you like to do when not training or working? Zumba and hanging around with my son.
15. Person you most admire? I disagree with her politically but Oprah Winfrey. She was born poor ,black and a girl in the Jim Crow south and she has become one of the richest women on earth. She is also a survivor of childhood sexual abuse.