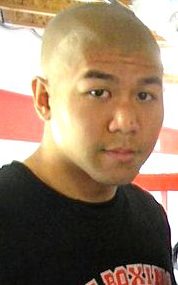 Dennis Vargas
Hanford Police Department/Central Valley Regional SWAT Team
Record: 7 Wins, 3 Losses
Age: 30
Nickname: D.J.
Fighting weight: 154lbs-160lbs

1. When did you start boxing? I started with Coach Greg Huerta at Smashtime Boxing Club out of Sacramento, CA.  Greg provided me with a solid foundation in boxing and knowledge that shaped how my life is today.  I am forever grateful for that. I received my USA Boxing passbook in 2008 and my first bout was that year in Sacramento at Caballero's Brawl for it All show.
2. Who or what got you started in boxing? It all started on a front yard on Hume Court.  My friends would get together and watch the fights on T.V. at my friend's house then we would box on the front yard.  Chris and Pavel were the best in the group.
3. When preparing for a fight what gym do you train at? Hanford Boxing Club at the Hanford P.A.L Gym.  I am one of the Hanford Police Officers that is assigned to the Hanford P.A.L. Program.  We have a great group of kids and it is motivating to train alongside this team.  I have met some of the most hardworking and humble kids at the Hanford Boxing Club and it is a pleasure to be around them.  Also I would like to thank Corporal Frank Martinez for all the hard work and dedication that he puts into the Hanford P.A.L. Program.
4. Who is your trainer? Ruben Valdovinos and the Famous Frank Moseley
5. Who is the best boxer you ever sparred against? I don't remember his name but I did some rounds with one of Juan Lazcano's main sparring partners.  Lazcano was a former World Champion, boxing out of Sacramento, CA.  Fresno's Top Rank professional boxer Joe Louie Lopez, Former Golden Boy Promotions boxer Juan "El Tigre" Herrera, and UCA Champion Marqus Blevins also gave me some good work.
6. Of all your opponents and sparring partners who hit the hardest? Fresno P.D.'s Skye Liebee rung my bell a couple times and Quincy Mirage from LAPD had some pop when we fought twice for the UCA Championship Belt.
7. What do you feel is your strongest weapon in the ring? Ring generalship, and quality coaching.
8. What do you like to do when not training or working?  Watching movies, comedy shows, and sports.
9. Favorite fighter? Right now my favorite fighters to watch box out of the Hanford Boxing Club.  USA Boxing Nationally Ranked Anthony "Pollo" Valdovinos, 2016 Junior Olympic California State Champion Adrian Valdovinos, Chris Solorzano, Daniel Martinez, Julio Barajas, Juan Solorzano, Panchito Lopez, Adrian Negrete, and Abdel Peralta.  Favorite professional fighter would be NABF Super Welterweight Champion Daniel "El Chapulin" Valdivia fighting out of Tulare, CA by way of Jalpa, Zacatecas.
10. Favorite all time fight? Anthony "Pollo" Valdovinos (Hanford Boxing Club) vs. Nes Tiburcio (Boxfit808, Hawaii)  at the 2016 Desert Showdown in Indio, CA.  The fight was a rematch.  The first fight took place in Dallas, TX at the 2016 National Junior Olympics with Nes taking the decision.  Nes would eventually win the National Championship at the Junior Olympics.  At the time of the Desert Showdown Nes was ranked # 1 in the United States, and Pollo was ranked # 11 nationally.  Pollo put on a beautiful display of skill and aggression, dominating all three rounds to win the unanimous decision.  After that fight Pollo was ranked # 1 in the United States.
11. Favorite Sports Team? Golden State Warriors
12. Favorite athlete? Right now Steph Curry.  All time, Michael Jordan.
13. Favorite food? Mexican food from either Mercado & Carniceria Del Valle located at 1120 N. 10th Avenue Hanford, CA. or Colima Restaurant located at 320 E. 7th Street Hanford, CA.  Also the cheeseburgers from Squeeze Inn in my hometown of Sacramento, CA.
14. First job?  Service porter at Maita Chevrolet
15. First car?  Honda Civic
16. Person you most admire? My mother and my grandparents