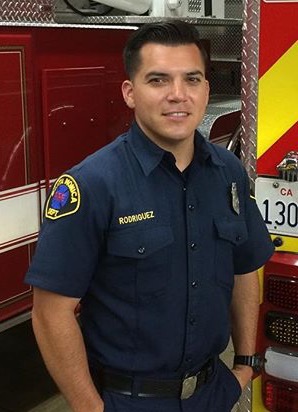 Dusty Rodriguez
Santa Monica Fire Dept
Nickname: Polvito
Weight: 147-154
Record: 7-1
Age: 32

1. When did you start your career with Santa Monica Fire Dept? April 2009 hired by SMFD
2. When did you start boxing? Started boxing in the Fall of 2010
3. What got you started in boxing? I wanted to lose weight and got asked to compete.
4. What gym do you train at? Pal Gym Oxnard, CA
5.Who is your trainer? David Rodela

6. The best boxer you ever sparred against? Alfredo Angulo, but the guys at La Colonia gym are always tough.
7. Favorite music artist? Afu-Ra
8. Favorite fighter? Juan Manuel Marquez
9. Favorite all time fight? Pacquiao vs. Marquez IV
10. Favorite movie? House Party
11. Favorite place to eat? Two Trees Cafe in Ventura, CA
12. First job? Bus boy at Carrows
13. First car? 1991 Ford Explorer
14. What do you like to do when not training or working? Hang out with my family and friends, drink craft beer, snowboard, watch sports.
15. Person you most admire? Admire my parents the most.