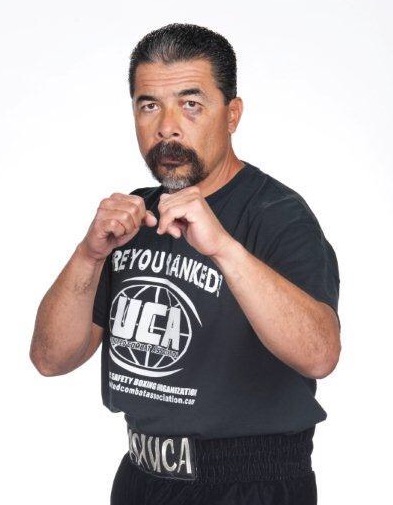 Deputy Gerardo A. Pachuca
Los Angeles Sheriff's Department
Nickname: Kid Maravilla
Fighting weight: 180
Age: 50

1. When did you start boxing? Training: Jan 2014, at age 48. 1st fight: Nov 14, 2014 at age 49.
2. What got you started in boxing? I started training with Mando "The Hitman" Guzman to lose weight. I tore my hamstring off the bone in Feb of 2012 and could not run like I did during my Baker 2 Vegas days anymore. I started lifting weights and got too heavy. Due to my training, I lost 45 lbs for my first fight.
3. When preparing for a fight what gym do you train at? We trained at the Henry Tillman Championship Boxing gym in Carson.
4. Who is your trainer? Mando "The Hitman" Guzman (LASD Retired) and the "Lite it Up Boxing" team.
5. The best boxer you ever sparred against? That's a tough question to answer. I sparred Brian Stevens and Alan Rojas. Both UCA Champs, and Rey "El Rayo" Mena, Mando's pro. They are all good!
6. Of all your opponents and sparring partners who hit the hardest? My trainer, that "Old Guy",
Mando. He still packs a punch.
7. What do you feel is your strongest weapon in the ring? My will and my combinations.
8. What sports did you play in high school? Baseball. I was a catcher at Cathedral High School (Class of '84) in Los Angeles.
9. What do you like to do when not training or working? Coaching high school and youth baseball. I coach my 12 year old son Matthew's travel baseball club, the West Covina"Knuckleheads". I also like to travel with my wife Jackie, spending time with my mother Carmen, and all of my boys, Tito (31), Alex (29), Michael (21), and Matthew (12).
10. Favorite fighter? Julio Cesar Chavez Sr.
11. Favorite all time fight? Ruben Olivares vs Alexis Arguello, Nov 23, 1974. I saw it live at the Forum with my father.
12. Favorite movie? I have 2: "High Plains Drifter" with Clint Eastwood and "Field of Dreams" with Kevin Costner.
13. Favorite athlete? Mike Scioscia, "Hard as Rock" behind the plate, never feared getting barreled over.
14. Favorite food? Sushi at Yoshida Sushi in San Marino.
15. First job? Pizza delivery guy at "Falcone's/Papa T's" Pizza in Boyle Heights.
16. First car? 1975 Datsun pick up, slammed.
17. Person you most admire? My father, Alonso Pachuca (R.I.P.). He taught me to earn my keep with hard work, to care for my family first, and to never do anything that would embarrass our family name. I wear my father's name on my trunks in his honor.