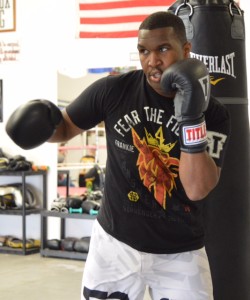 Marqus Blevins
Kings County Probation
Nickname: Machine
Weight: 154
Age: 31
Record: 4 – 0 (Boxing/Muay Thai/Kickboxing)

1. When did you start your career with Kings County Probation? I started with KCPO in Dec '06. It'll be 10 years this year! It is nice not to be considered "… that young kid…" anymore.  
2. When did you start fighting? I was introduced to it by my friend Joseph Warnock back in 06. He was a Muay Thai instructor then at the Valley Fight Club where I still train today.
3. What got you started in fighting?
The VFC gym owner D. Womack talked me into it. The gym was hosting a smoker and wanted a staple of fighters acrossed all weight classes. Honestly I wasn't heavily interested in doing it, I was loosely training and greener than broccoli.
4. When did you have your first fight?  The smoker at VFC was my 1st fight. It was 'stand up only' rules so any striking discipline was allowed just no ground fighting. I primarily stuck to the little Muay Thai I had learned at that point and a few moves I thought were a good idea that I'd saw in some Van Damme movies. The gym was hot, crowded with people and I was nervous as hell! Ended up getting a decision win over a tough opponent named Marlin Marshall – U.S. Navy. I learned that 1) I can eat a punch – lots of them 2) I can serve up a few good ones of my own. 3) That I have the heart to push myself to the limit and grind my way to a victory.
***I have since dramatically cut punches out of my diet as studies have shown they contain no nutritional value.
Google it..
5. What gym do you train at when preparing for a fight? The Valley Fight Club has been my gym from the start. I have a great, talented team of fighters there and we push each other to be unstoppable every time we step into a ring or cage. John Gonzales II, Diamond Templeton, Ryan Ballin, and Matthew Beaty just to name a few. Would be nearly impossible without these guys, iron sharpens iron.
6. Who is your trainer? John Gonzales II, Anthony Musial, and D. Womack. We train multiple disciplines at VFC but these are my primary guys.
7. Who is the best boxer you ever sparred against or trained with? I'd have to say DJ Vargas, Hanford PD or Bryan Williams, Fresno PD.
8. What does a typical training day consist of for you? Conditioning. Some more conditioning. Take a break….some more conditioning! Fatigue can not be a factor. Then we'll do a series of functional sparring, focus pad work and/or technique drills.
9. Who is your Favorite fighter? Roy Jones Jr. In his prime he was the most exciting, explosive, dominant boxer breathing. Youtube his highlights, they are beyond impressive.
10. Favorite all time fight? I watch a lot of MMA and I'd have to say right now Robbie Lawler vs Rory MacDonald II is my favorite. That was a stand up war of 'who's body is gonna break first' because heart and will were not a question in that one.
11. Favorite movie? Men of Honor. Great true story of perseverance against all odds. That story inspires me.
12. Favorite food? I love a good bbq. Give me a juicy reverse seered tri tip with a slab of ribs and I'm good. No sides required.
13. First job? I was a paperboy at 14. It was horrible. I lived in a not so great neighborhood so i always had issues collecting my fees. Quit that gig after about a month.
14. What do you like to do when not training or working? I enjoy having little get togethers at the house and spending time with friends and family. Some of the best times and memories come out of those occasions.
15. Person you most admire? My Mother