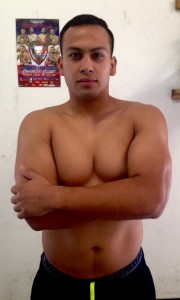 Martin Gutierrez
Lemoore Police Department
Weight: 205
Age: 23

1. When did you start working for Lemoore Police Department? January of 2015.
2. When did you start boxing? Before I could walk. I can remember as an infant lying in my crib, shadowboxing with my stuffed animals. I was born to fight!!!
3. What got you started in boxing? The flyers on the wall…
4. What gym do you train at when preparing for a fight? I train out of Palafox boxing gym in Lemoore. I tend to bounce around from garages to gyms.
5. Who is your trainer? The great Kevin Cosper: LPD
6. Who is the best boxer you ever sparred against? My three sisters
7. Favorite music artist? Justin Beiber
8. Favorite fighter? Chris Weidman
9. Favorite all time fight? Jose Aldo Vs Chad Mendes UFC 179
10. Favorite movie? The Notebook
11. Favorite place to eat? Bathroom
12. First job? Lechugador
13. First car? 99′ GMC Sierra
14. What do you like to do when not training or working? Synchronized swimming and writing poetry
15. Person you most admire? Charlie Sheen