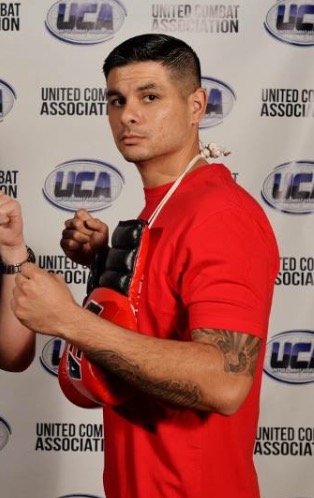 Roman Grider
CDCR, Corcoran SATF
Fighting Weight – 183lbs

When did you start boxing? I started boxing in November of 2016.
Who or what got you started in boxing? I owed it to my son to try something I've always wanted to do.
When preparing for a fight what gym do you train at? I train at Just Lift Gym in Hanford, CA.
Who is your trainer? I got the best trainer Joe Lopez.
Who is the best boxer you ever sparred against? The best boxer I sparred against is a heavyweight named Gio that trains at Armona Boxing Club.
Of all your opponents and sparring partners who hit the hardest? Gio also hit the hardest.
What do you feel is your strongest weapon in the ring? My strongest weapon is my desire to win and my right hook.
What do you like to do when not training or working? When I'm not training or working, I spend my time with my wife and daughter and family.
Favorite fighter? Nate Diaz is my favorite fighter.
Favorite all time fight? Diaz vs McGregor 1 is my favorite fight.
Favorite movie?  Marvel the Avengers
Favorite athlete? Kobe Bryant
Favorite food? Pizza
First job? First job was working with my father lawn maintenance.
First car? First car was 1989 Honda Prelude
Person you most admire? Person I most admire is my brother Matthew who has cerebral palsy but does not slow him down at all.