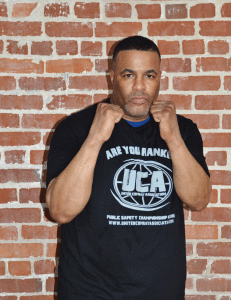 Sean Johnson
CDCR KVSP
Nickname: "I Am Legend"
Weight:
Age: 49
Record: 11-1

1. When did you start your career with the California Dept. of Corrections? 1996
2. When did you start boxing? 1979
3. What got you started in boxing? Parents
4. What gym do you train at? Various
5. Who is your trainer? Various over time
6. Who is the best boxer you ever sparred against? Some guy that was at Ringside Gym in 1996 named Muhammed.
7. Favorite music artist? Hip hop-music
8. Favorite fighter? All that enter boxing rings
9. Favorite all time fight? David Tua vs. Ibeabuchi
10. Favorite movie? Training Day
11. Favorite place to eat? Olive Garden
12. First job? Nutrition program for under privileged children.
13. First car? Cadillac Brougham '72
14. What do you like to do when not training or working? Watching movies at home.
15. Person you most admire? Parents