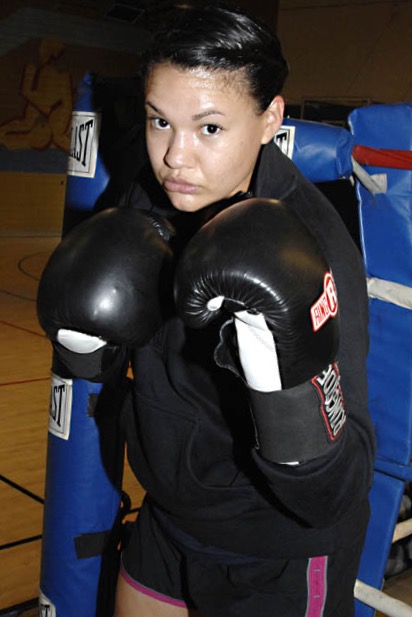 Shannon Herrera
Los Angeles Police Department
Age: 29
Nickname: No Nonsense
Record: 2-1

1. When did you start your career in public safety? August 2010
2. When did you start boxing? I started boxing in 2011.
3. What got you started in boxing? I have always wanted to be on the LAPD boxing team! Ever since I saw them on the news participating at the City Of Hope fundraiser. My desire to be on the team was before I even became an officer. Before boxing I trained in Muay Thai for about 6 years.
4. What gym do you train at? I have trained in a few gyms with different trainers. I started off at the East Los Angeles Community Youth Center with Lewis Cordova. I then began to train with the LAPD team at Northeast Police station, moving onto Hollenbeck Youth Community Center and ending at the beautiful City of Angels Boxing gym.
5.Who is your trainer? My current Trainer is John Negrete but couldn't have made it this far with out Rudy Barragan, Frank Diaz and Quran Molina.
6. The best boxer you ever sparred against? The BEST boxer would definitely be Mikaela Mayer. I walked away with so much confidence and learned a lot from our 2 sparring sessions.
7. Favorite music artist? I have 2! Sia and Lana Del Rey
8. Favorite fighter? Manny Pacquiao
9. Favorite all time fight? Manny Pacquiao Vs Oscar De La Hoya
10. Favorite movie? Step Brothers
11. Favorite place to eat? I have so many. I'm not an ordinary or boring woman. I love food! Haha. Gin Korean BBQ in Alhambra.
12. First job? LA's Best! LAUSD after school program
13. First car? A brown 1990 Toyota Corolla
14. What do you like to do when not training or working? Spending quality time with my family at Disneyland
15. Person you most admire? I would have to say, my parents. I couldn't choose just one. They have both raised my sisters and I to be hard working, respectful, helpful and understanding. They are the reason why I am here and so successful in life.