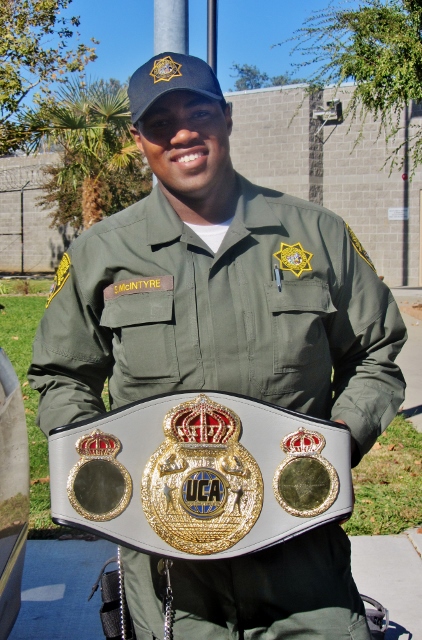 Shay McIntyre
CDCR Folsom Prison
Nickname: Mack
Fighting weight: 235lbs
Age: 33
Record: 4-3

1. When did you start boxing? 8 years ago
2. Who got you started in boxing? A buddy I worked with would always tell me that he wanted me to get in the ring with him and I was driving home from work one day and saw a kid holding up a sign that said, "one free week boxing". I went inside of the gym, talked to the coach and it turned out that it was the same gym that my buddy went to. A year later, we spared and I got the better of him.
3. When preparing for a fight what gym do you train at? UFC Gym (Formerly, LA Boxing)
4. Who is your trainer? Marcus Reeves
5. The best boxer you ever sparred against? Otis Griffin
6. Of all your opponents and sparring partners who hit the hardest? Harry Gopaul
7. What do you feel is your strongest weapon in the ring? Pretty quick jab and my reach.
8. What sports did you play in high school? Football
9. What do you like to do when not training or working? Watch movies, video games, mountain biking, lifting weights, sleeping, hiking, rock climbing, helping people in various ways.
10. Favorite fighter? Sugar Ray Leonard (Apollo Creed-Fictional)
11. Favorite all time fight? #1)Marvin Hagler vs Thomas Hearns: The fight started like it was the last round and they were even. They wasted no time in this fight. This fight single handedly dwarfs all fights today. Most fighters today do a lot of walking and pacing. These guys didn't.
#2) Ali vs Foreman. They wouldn't give up. Two giants in their own right and a strategy went into play that still shocks me decades after the fight.
12. Favorite movie? The Incredible Hulk. He wasn't a bad guy, but almost a anti-hero. Most of the time he just wanted to be happy. Clearly, he didn't respond well to being bullied.
13. Favorite athlete? Troy Aikman. You take that guy, put him in street clothes and line him up with some other guys. You wouldn't expect his ability and skill level from his appearance. And he is an all-around humble guy.
14. Favorite food? Broccoli
15. First job? Courtesy Clerk (Bagger) at Homeland Grocery Store in Sapulpa, Oklahoma.
16. First car? Volkswagon Jetta 1998. Purchased on December 31st, 2000. Wrecked in August 2001.
17. Person you most admire? Anyone that overcomes challenges and doesn't make an excuse if they don't succeed. Any opponent that can lose and congratulate the winner and walk away knowing that they either did their best or messed up, but it's no big deal. And lastly, anyone that is happy naturally and simple. As I've gotten older, I've come to understand that's all that matters.