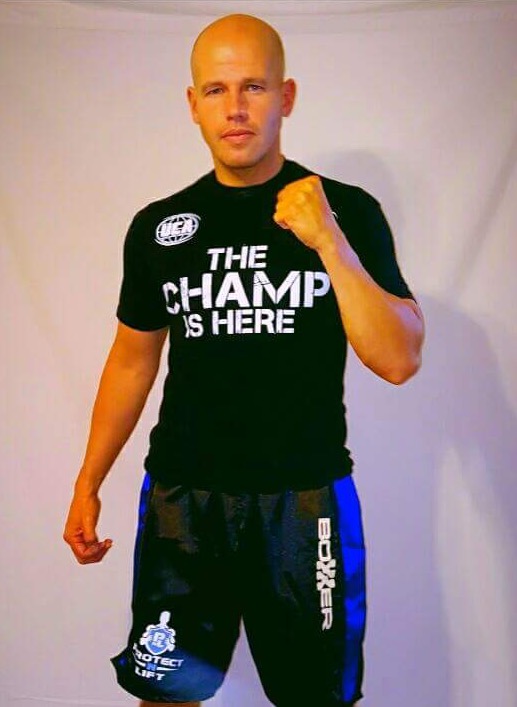 On Saturday April 8, 2017 the UCA Battle of the Badges will be headlined by two of the best fighters in the country.  BJ Adkins, Raleigh County Sheriff's Dept. will travel from West Virginia to challenge the undefeated (6-0) UCA Jr Welterweight Champion Shant Sheklanian, State Parole. The UCA caught up with Adkins to ask him a few questions about his upcoming title fight.
UCA – When did you start training camp?
BJ – I have started training camp as of January 1st.
UCA – How often are you training to prepare for the fight?
BJ – I train at least 6 days a week. Whether that be at Signal 12 boxing gym, running 800+ steps at Kaymoor Mining Trail through the mountains of West Virginia, training routine at home, strength training, and two a days with my partner from the Sheriff's Office, Christine Schack who has helped push me daily.
UCA – Are you feeling added pressure or stress about traveling to California to take on the undefeated UCA Champion Shant Sheklanian, in his home state?
BJ – I definitely feel the pressure coming to his home state. Not so much stress but the pressure is there.
UCA – Are you coming into this fight with the mindset that you have to win convincingly or by knockout to get a decision over the champion?
BJ – I know that if I wanna win this fight it has to be without a doubt convincingly. I believe if it's a close fight and left in the judges hands the Champ will walk away the Champ. He has already proven himself as the best. I don't see the decision going in my favor if it's split.
UCA – What made you want to take this fight?
BJ – When I was offered the fight with the Champ there was no way I would turn it down. I mean it's not everyday you get the opportunity to battle one of the elite warriors of the UCA.
UCA – Are you a fighter who likes to watch video on your opponents?
BJ – Yes
UCA – Sheklanian has plenty of videos on YouTube for you to watch and study.  Do you feel you can pick things up that can benefit you in the fight?
BJ – I have watched his videos already over and over again. Like I said he is a Champ for a reason. He is one of the Elite warriors. I will continue to study those videos and train accordingly.
UCA – Without giving anything away, are you working on anything specific in training camp to prepare for Sheklanian?
BJ – I'm working on a couple of things. I have a great group of people helping me prepare for this battle.
UCA – Will your training camp be more intense compared to other training camps?
BJ – This will be the most intense training camp so far for me. I don't think I've ever wanted a fight more than I want to be the UCA Jr Welterweight Champ!
UCA – Will you be sparring with guys similar to Sheklanian's style and stature?
BJ – Yes, I can say that I have a great group of sparring partners that have great power, speed, and etc. I don't think I could be fully prepared for this fight if it wasn't for the fighters and coach at Signal 12 Gym.
UCA – If the fight is close going into the 3rd round will you come out hard and push the pace to win the round?
BJ – If we go to the 3rd round it will be a show. If the fights close or not I believe we both will stand in the middle of that ring and battle till the end. I will push with everything inside of me and fight till it's over. He's not going to want to lose his undefeated record and being the champ. I'm not wanting to travel all the way to the west coast over 2,000 miles to lose. This will be a battle!
UCA – Will you have to put on the best performance of your career to take Sheklanian's title?
BJ – Absolutely! There is no doubt in my mind that I will have to be on my game. I will have to be ready to perform better than I have in any other fight. To be the best you have to beat the best!
UCA – What will you be thinking about as you walk to the ring?
BJ – I'm not exactly sure what will be running through my mind as I'm walking in. I just wanna be focused and know it's now "Showtime"
UCA – Have you envisioned in your mind how the fight will end?
BJ -How does it end? I've envisioned, dreamed, and spent late nights playing it over and over in my head. They all have different endings. I would be lying if I said I didn't have dreams that I lost. But those dreams feed my hunger! Those dreams make me push harder and keep training hard. Those dreams make me prepare for the biggest battle I've ever faced. Come April 8th two Warriors will be Battle ready!!!!! Don't miss it!!!!!