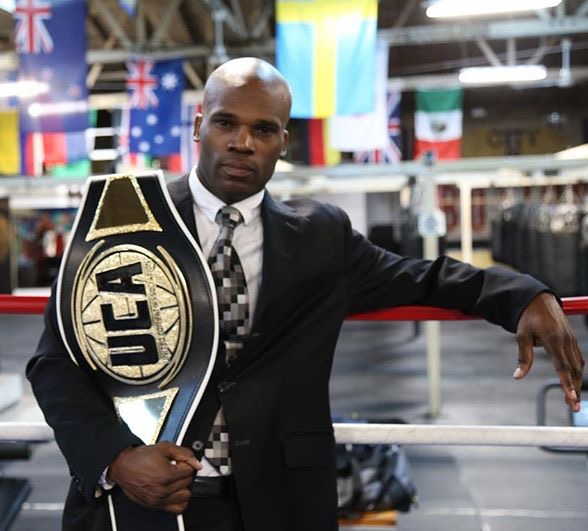 On Saturday, April 8, 2017 two of the best welterweights will engage in a battle for the UCA Welterweight Championship title. The UCA Champ Mike Delery, LAPD will put his title on the line against #2 Chris Martinez, Fresno Police Dept. The UCA caught up with the champion to ask him a few questions about his upcoming fight with Martinez.
UCA – How has the process been preparing for this fight with work, family, training and fitting it into your schedule?
MD -Preparing for a fight is always a balancing act between family and work. My kids understand the demands of camp and have been extremely helpful and understanding. My department is supportive of the boxing team which allows me some flexibility during camp.
UCA – Has training camp been more intense compared to other training camps?
MD – This training camp has been just as intense as any other. Jorge (my coach) always demands a high level of consistency from his fighters every camp.
UCA – What does a typical day of training consists of?
MD – A typical day of training starts with warming up with some rope or shadowing boxing. Some days we focus on the technical aspects of our fight and other days we focus on sparring.
UCA – In your title fight win over David Bermudez, East Bay Regional Parks PD you were knocked down in the first round and it looked to everyone that it was over and Bermudez would be the new champion. But you beat the count, kept your composure, stuck to the game plan and became the new UCA Welterweight Champion. What was going through your mind when you were knocked down?
MD – The first thing I thought was, "I can't let Jorge down." He trains the team for free and dedicates A LOT of time to us in the gym. I felt I needed to show him that his sacrifice was worth more than a 10 second fight.
UCA – A win, is a win, but which do you prefer, a knockout, unanimous decision, or a war?
MD – When I climb through the ropes I'm ready for a war.
UCA – Are you feeling added pressure or stress about traveling to Hanford and fighting Martinez in his hometown?
MD – No added pressure. It's always nice to fight in front of a hometown crowd but my job description remains the same regardless of where I fight.
UCA – Will Martinez hometown fans affect your performance?
MD – Not at all. My focus will be on doing what I need to do in order to win the fight.
UCA – Do you feel you have any advantages over Martinez? Footwork, speed, coach, gym, stablemates. hunger, will, power?
MD – I believe that I have a very knowledgeable coach and very skilled stablemates. I will never underestimate my opponent, but I am confident in our preparation.
UCA – Based on Martinez style and past fights are you working on anything specific in training camp to prepare for your fight with him?
MD – We have a fight plan. However, Martinez is a warrior and former UCA Champion so we have to be able to make adjustments.
UCA – Do you feel you will have to put on the best performance of your career to keep the title?
MD – I will definitely have to put on my best performance to keep my title.
UCA – If the fight is close going into the 3rd round will you come out hard and push the pace to win the round?
MD – No doubt, and I 100% expect Martinez to do the same.
UCA – Has your coach Jorge Gonzalez brought in special sparring to prepare you for Martinez?
MD – Jorge hasn't brought in anyone specifically for Martinez. Between my stablemates and the tough fighters at City Of Angels, we're able to get some good work.
UCA – Are you sparring with professional fighters to prepare for this fight?
MD – This camp I've had the opportunity to work with Isaac Freeman and David Estrada. Both are great fighters.
UCA – Do you feel having the UCA Super Middleweight Champion Quincy Mirage and the Former UCA Middleweight Champion Hector Mendoza, LAPD as stablemates gives you an advantage over Martinez?
MD -It definitely helps to have stablemates that understand what it takes to be a champion. Martinez is a former champion and I'm sure he's going to bring that championship drive and determination into the ring on April 8th.
UCA – In boxing they say once you become a champion you become a better fighter. Do you feel you are a better fighter physically or mentally now that you are a champion?
MD – I try to learn and build after every fight. Becoming champion didn't necessarily make me better, I think the tough competition did.
UCA – Do you feel that you have to workout & train even harder now that you are the champion and people are gunning for you?
MD – As a UCA champion, I feel like it's my responsibility to workout and train harder. The UCA is a very competitive league and I am sure that there is a hungry UCA fighter grinding in the gym right now!
UCA – As a champion do you feel Martinez has to win convincingly to take your belt?
MD – Martinez is a proven and experienced warrior, but he will need to be at his best to take my belt.
UCA – What will you be thinking about as you walk to the ring?
MD – I will be focused on what I need to do win the fight.
UCA – At the end of the fight will we hear "And Still….the UCA Welterweight Champion?
MD – Absolutely.