Some of the biggest names in the UCA converged on the Hanford Civic Auditorium Saturday April 8, 2017 for the 4th annual Battle of the Badges. The lineup of top fighters blew the doors off the hinges in front of a packed house. Three new UCA Champions were crowned and the fans were introduced to future stars. Lets find out how the action played out.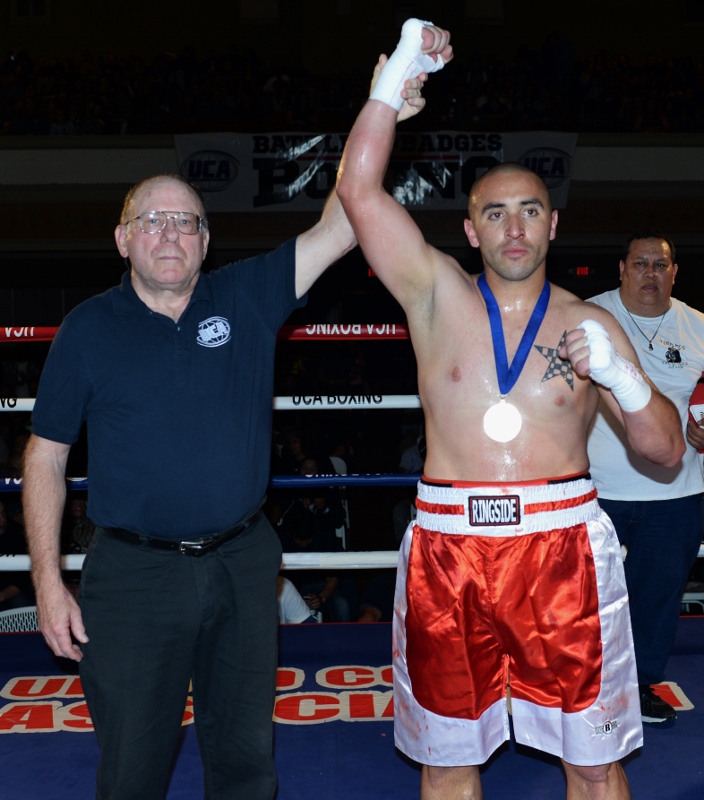 Bout 1 – Brent Pavey – Federal Bureau Prisons vs. Byron Chambers – San Bernardino County Probation, Cruiserweights making their UCA debut.  A pair of range-finding jabs from each fighter touched off this night's event when these two men met in the middle of the ring in the opening bout. Soon thereafter, a right cross from Chambers would land on Pavey's jaw & would send him down on one knee. But Pavey got back up quickly during the ref's count to 8. He then gathered himself and he then went right after Chambers. He shot a leaping left hook from a distance that would catch and surprise Chambers. But Chambers came right back with two monster right hands that would buzz Pavey and back him into a corner. Pavey tried his best to cover up from a barrage of punches Chambers threw, but the referee had to step in and give Pavey another 8-count in the first minute of the fight. It seemed that Pavey was in trouble early. After surviving the first stanza, Pavey came out in the second seeking retribution for Chambers' earlier actions. He came out swinging hard, heavy leather, and would soon land a booming right hook on Chambers' head that would have him on shaky legs. The referee would then be forced to give Chambers a standing 8-count of his own. Chambers fought on though, he jabbed off his back foot and tried his best to counter and stave off his opponent's attack. But Pavey just continued to charge forward.  He eventually landed a set of heat-seeking left and right hooks that would drop Chambers a total of three times in the third round. In a major turn of events, Pavey had come back and gotten himself some payback.  The referee had seen enough though. He waved the fight off late in the round and declared Pavey the winner by TKO. My hat goes off to both fighters. What a great way to start off the night!
Bout 2 – Jose Bustillos, Navy vs Hugh Estrada, CHP. (Welterweights) Bustillos had a good 2 to 3 inch height advantage over Hugh Estrada. His arms were visibly longer as well. Bustillos would try to use those advantages by jabbing Estrada's head from what seemed to be a safe distance. Bustillos would then follow up that jab with a straight right hand from the outside. But it wouldn't take long for Estrada to bust through Bustillos' comfort zone. What Estrada lacked in height and reach, he made up for with quickness and constant movement. And he would use it all on the slow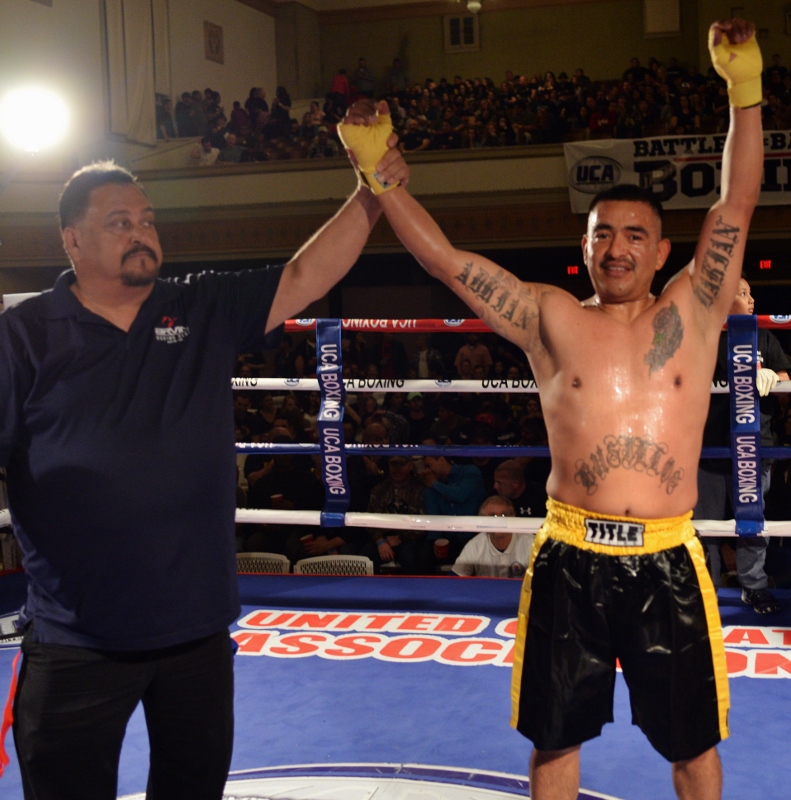 er Bustillos. Estrada would slip and dip, and slide away from those straight punches while constantly moving his head and feet. His hands were constantly moving as well.
Once inside Bustillos' space, Estrada would throw combinations of left and right hooks to Bustillos' body and head in rapid succession. Those punches would always come in bunches. For every 1 or 2 punches Bustillos would land, Estrada would quickly land 3 or 4 in return. And he seemed to always beat Bustillos to the punch. Estrada would counter and catch Bustillos before and after Bustillos would let off his punches. Estrada quickly transitioned from offense to defense and defense to offense. He would move his head and punch, and punch and move his head. He would make Bustillos miss, and make Bustillos pay. The 3rd round, was Bustillos' best round of all. He got into the trenches with Estrada and fought in the same manner as his opponent did. While in close, his straight punches became arched and they came at a 3 to 4 punch clip. Bustillos had started to really let his hands go. Both fighters exchanged combos all the way to the end. What a great fight! After the last bell sounded, Bustillos was declared the winner by Decision. This action packed fight would receive UCA "Fight of the Night" honors.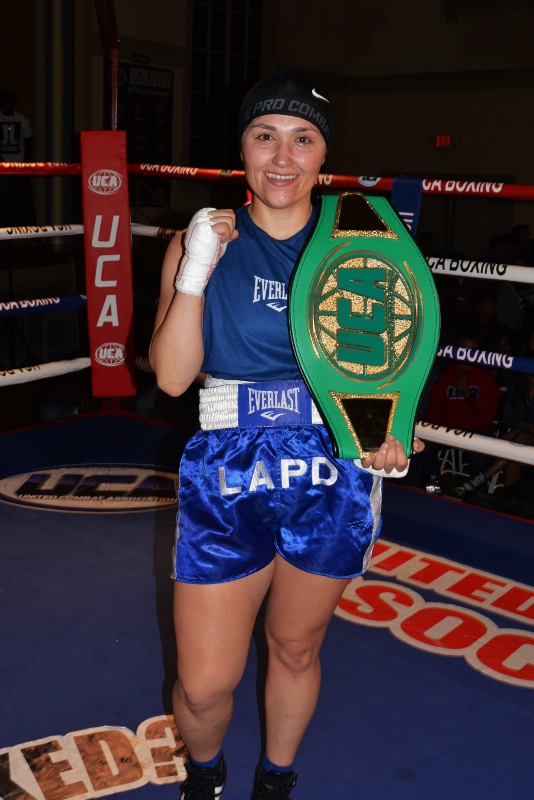 Bout 3 – UCA Super Featherweight Championship Title – Deirdre Fonseca – LAPD vs. Laura Morales – Madera Dept. of Corrections. The long-awaited rematch between these two lady fighters was finally here. In their first meeting three years ago, Laura Morales had been declared the victor in a match that had earned both women Fight of The Night honors. But now, the first UCA Women's 132 pound Title was on the line.  This fight would start off very tactical & methodical. Both women circled one another and used probing jabs to get reacquainted. But it wouldn't take long before they'd pick up where they left off the last time. Fonseca continuously landed a stiff, stinging jab that would send Morales' head back. Morales threw quick and violent 3-punch combinations that caught Fonseca whenever she was in range. Fonseca however, did a good job of getting in and out of danger using quick feet. Fonseca's straight right hand showed up shortly thereafter. Both women started coming at each other full force. They would constantly get tangled up during exchanges. The referee would repeatedly be forced to step in and break them up. The fight for the UCA Title was definitely on. Using fast footwork and angles, Fonseca started and ended every combination with a piston-like jab. Fonseca seemed to land the cleaner and more-telling punches. But Morales would land some too. Late in the second round, Morales caught an off-balance Fonseca with a straight right and left hook combination that sent her backwards and down on the canvas. But Fonseca quickly bounced back up just before the round ended.  In the closing round, both fighters kept going at it full tilt. Morales came forward and bull-rushed Fonseca. Fonseca would do her best matador impersonation and stuck Morales with left jabs and straight rights, and tried to get out of the way. But they both continued to get tangled. They'd have to keep being separated but would sometimes punch off of the break. What a great fight! Great back and forth action from each fighter from start to finish! This fight was close. And it would be a tough one to call. But then the Decision was read, and the New UCA Women's Super Featherweight Champion is Deirdre Fonseca.
Bout 4 – Jacob Duncan – Anderson Police Dept. vs. Roman Grider CDCR Corcoran SATF. (Jr Cruiserweights)  Jacob Duncan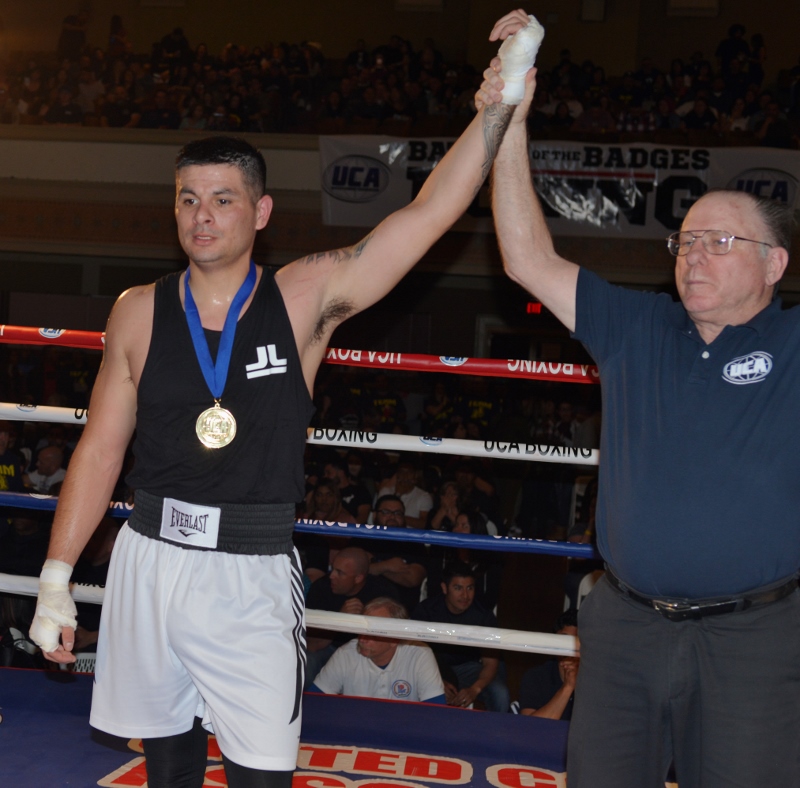 came forward and stalked a reversing Roman Grider behind a long left jab. Grider would then land sharp, blistering combinations upstairs and downstairs whenever Duncan caught up to him. Grider would set up traps going backwards and Duncan would fall into them. Despite that, Duncan would keep coming forward. He kept chopping away at Grider's body whenever he was in close. But Grider did a good job of fending off Duncan's approach as he jabbed and countered him off of his back foot. In the closing round both, fighters traded powerful hooks that let off a thudding sound. Shortly thereafter, a big right hand caught Duncan on the head and he would be given a standing 8-count by the ref. Both fighters kept at it until that last bell sounded. When it was it over, Grider would win by Decision.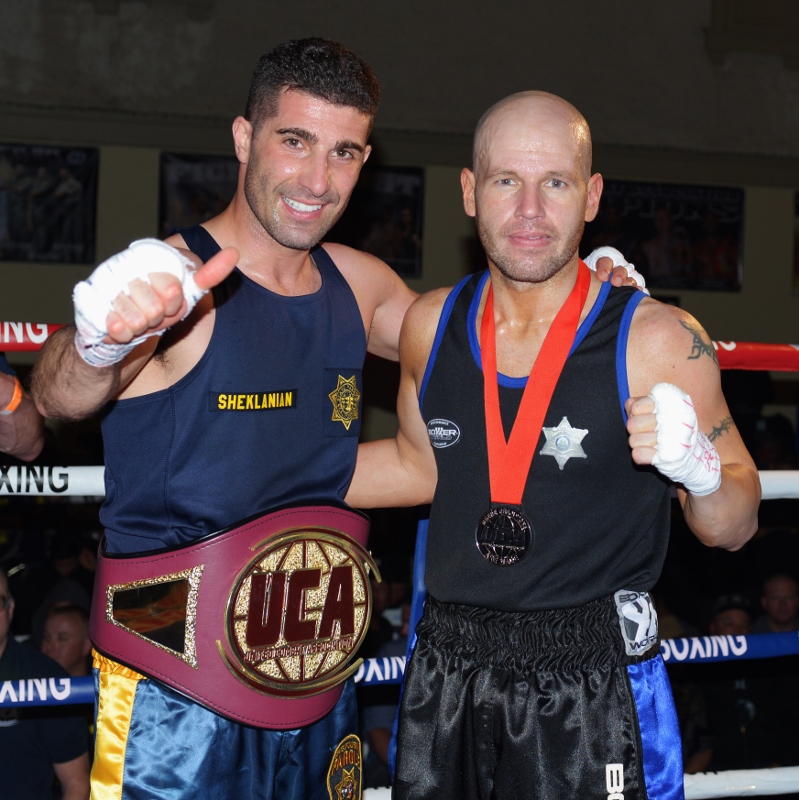 Bout 5 – UCA Jr Welterweight Championship Title BJ Adkins (West Virginia) – Raleigh Sheriff's Dept. vs. UCA Champion Shant Sheklanian – CDCR State Parole  At the start of this fight, Shant Sheklanian calmly and patiently stalked BJ Adkins who boxed going backwards. Sheklanian proceeded forward behind a range-finding jab, a strong straight right hand, and monstrous left hook that thudded whenever it landed on Adkins' head. The power advantage Sheklanian had over Adkins was quite evident early on. Adkins fought back though. He threw a stiff jab and countered Sheklanian with hooks to the head that would temporarily slow down his momentum. And to Adkins' credit, he would sometimes be the aggressor himself and go after Sheklanian. But the champion, Sheklanian showed great versatility with his defense as well as he did with his offense. Sheklanian would simply take a few steps back or spin out of the way of the oncoming Adkins. He had very light feet, covered up well, and was always on balance. He would even switch up to a left handed stance in order to give Adkins a different look. In the second half of the fight, Sheklanian was in seek and destroy mode. He kept coming after Adkins with very bad intentions. Sheklanian did a really good job of sitting down on his punches for optimum leverage. Adkins kept fighting back though. He stood in the pocket and went toe to toe with the champ. He traded left hooks and uppercuts on the inside with Sheklanian, but he did not come out on top of that deal. Eventually, Sheklanian caught Adkins with two straight left hands from the southpaw stance that forced the referee to give Adkins two standing 8-counts. But the very brave BJ Adkins fought on. He came forward towards Sheklanian, but the champion just pushed Adkins back against the ropes. And after another thunderous right hand and left hook landed on Adkins' head, the referee had seen enough. The fight was waved off in the third. And still UCA Jr Welterweight Champion, Shant Sheklanian.
Bout 6 – Jose Gomez – National Guard vs. Nazim Jokham-Hudson – U.S. NAVY  (Light Heavyweights) Nazim Jokham-Hudson was the taller rangier fighter. He boxed off his back foot, using a long left jab and straight right hand that kept the oncoming Jose Gomez a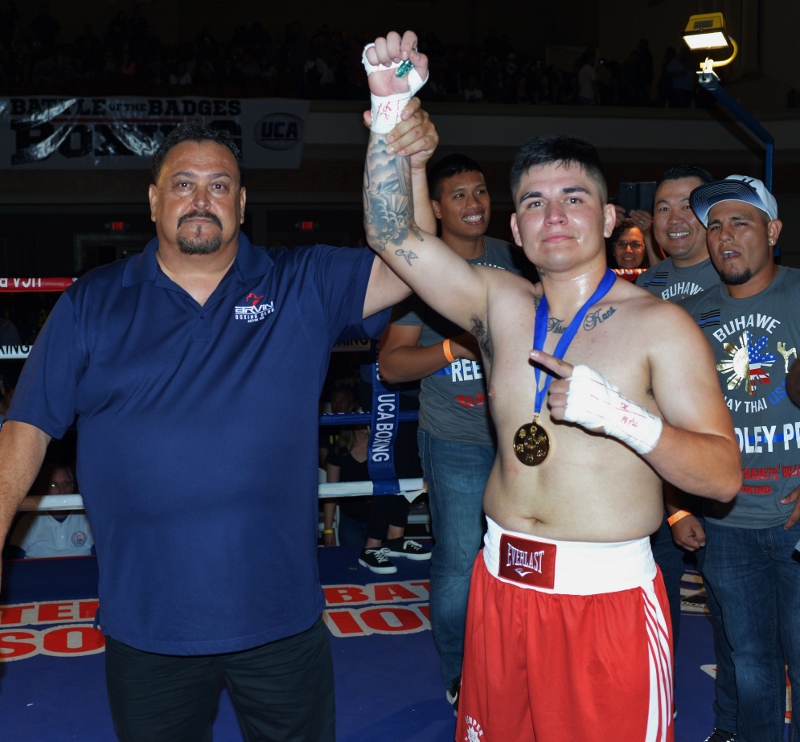 t bay in the opening seconds. But it wouldn't take long for Gomez to work his way around the taller man's defense. Gomez was compact and stocky, but was quick with his head and his feet. He slipped and dipped out of the way of Jokham-Hudson's longer punches in order to position his shorter arms to reach their target. And he was able to get out of range quickly before being countered. Gomez was also a brawler. After landing a hard up-jab, he caught Jokham-Hudson with a booming overhand right that made his legs wobble. Jokham-Hudson tried to hold on to Gomez in order to keep his balance but just couldn't do so, and down to the canvas he went. But Jokham-Hudson got right back up and went right back to work. This time he started to slug it out with Gomez. But a boxer should never brawl with a brawler. Gomez threw and caught Jokham-Hudson with a 4-punch set of wild and winging left hooks and right hooks. Jokham-Hudson would then receive a standing 8-count. Jokham-Hudson advised the referee that he was fine and wanted to keep on fighting, and so he did. But his legs were now gone. After receiving yet another heavy left hook, right hook combination, the ref had seen enough. The fight was waved off, and Jose Gomez would win by TKO late in the first.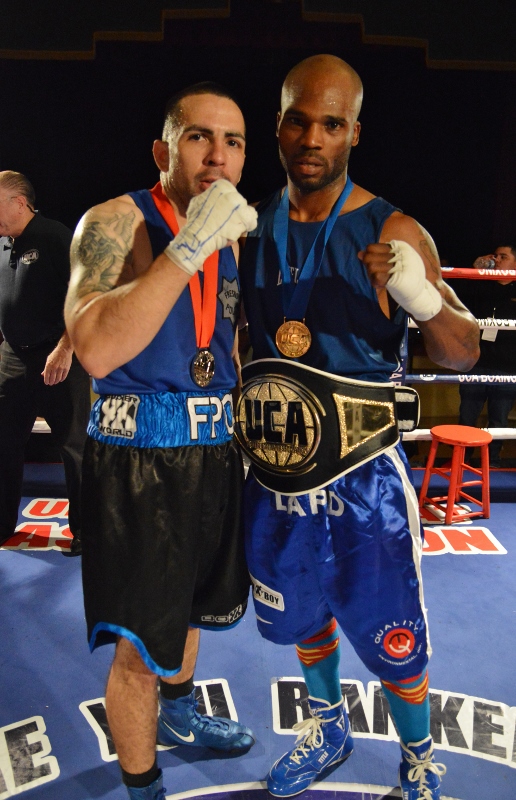 Bout 7 – UCA Welterweight Championship Title – UCA Champion Mike Delery – LAPD vs. Chris Martinez – Fresno Police Dept. Chris Martinez was the quicker fighter of the two. He had quick hands and utilized quick footwork to easily move around the ring. Mike Delery slowly stalked after Martinez, using a range-finding jab that would sometimes find its mark upstairs and downstairs. Whenever Delery would close in on Martinez, Martinez would use a set of quick jabs, winging alternating hooks, and an uppercut to try to keep Delery off him. Delery would bend at the waist and would slip away from most of Martinez' punches. Delery then threw some right hands and a combination of hooks that Martinez easily blocked and avoided. Delery kept stalking Martinez. He used intelligent pressure, feinted his jab, and waited for just the right time to unleash and connect his powerful right hand. And unleash and connect it he did. He caught Martinez with a strong straight hand to the head, and followed it up with a grazing left hook that Martinez was able to spin away from. Delery quickly went after Martinez, and this time Martinez tried to spin away from Delery's right hand. But he wasn't quite able to do so this time. Delery had changed levels and caught Martinez on the right side of his body with a thudding right hand. That punch must've sent shockwaves through Martinez' liver and the rest of his body, as Martinez went down shortly right after. Reeling from crippling agony while down on his gloves and knees, Martinez was unable to get up and beat the ref's count to 10. The referee waved his hands, and the winner by sensational KO, and still UCA Welterweight Champion Mike Delery.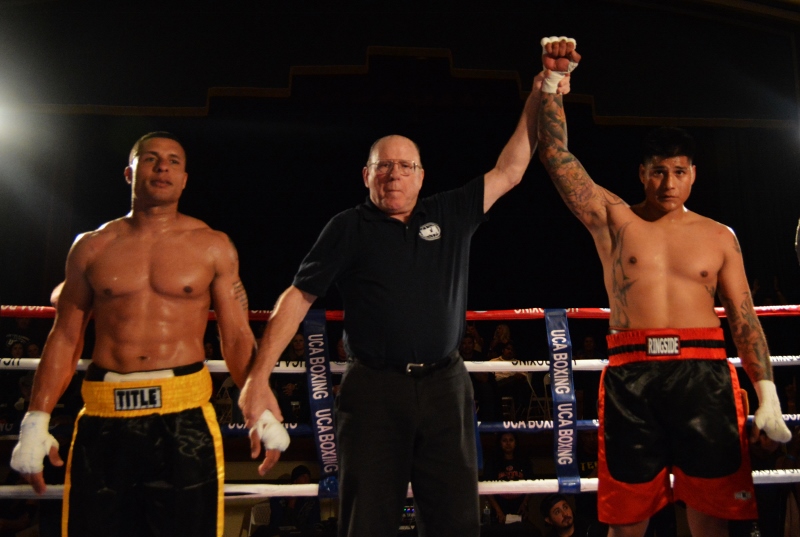 Bout 8 – Kellyn Furgiuele – U.S. Army vs. Gerardo Serrano – Reedley Police Dept. Gerardo Serrano was the taller fighter with the longer arms. Kellyn Furgiuele was the more compact and quicker fighter. Serrano did a good job of using his height and reach advantage, and was able to keep Furgiuele at the end of his punches. Furgiuele would use quick footwork to try to get into range in order to deliver his own punches. But Serrano would use great timing to catch Furgiuele with hooks and an uppercut on his way in. Serrano also had the clearer power advantage over Furgiuele. He made him think twice about entering his punch zone. But Furgiuele kept on trying. He would have some success, landing his jab and the occasional 1, 2. But Serrano also had a good defense. He used those long arms of his to block head shots with his gloves and body shots with his elbows. He also used subtle head and foot movements to get out of Furgiuele's range. And whenever Furgiuele did get into his range, Serrano would use his timing and power to make Furgiuele pay. At times while inside, all Furgiuele could do was just wrap Serrano up for his protection. Serrano was a tough puzzle to solve and indeed a tall order for Furgiuele. Sensing he was down on the scorecards, Furgiuele fought on with a sense of urgency in the final round. He threw an overhand right that got Serrano on the head. But Serrano just shook it off and kept coming after Furgiuele. Serrano was looking to close out the show and leave it out of the hands of the judges. He charged full steam ahead and kept throwing punches. Furgiuele would not give up though. He threw Hail Mary haymakers that would more than even things up. But the haymakers missed their mark. And all he could do was tie Serrano up in order to survive. When the fight ended, the winner by Unanimous Decision was Gerardo Serrano.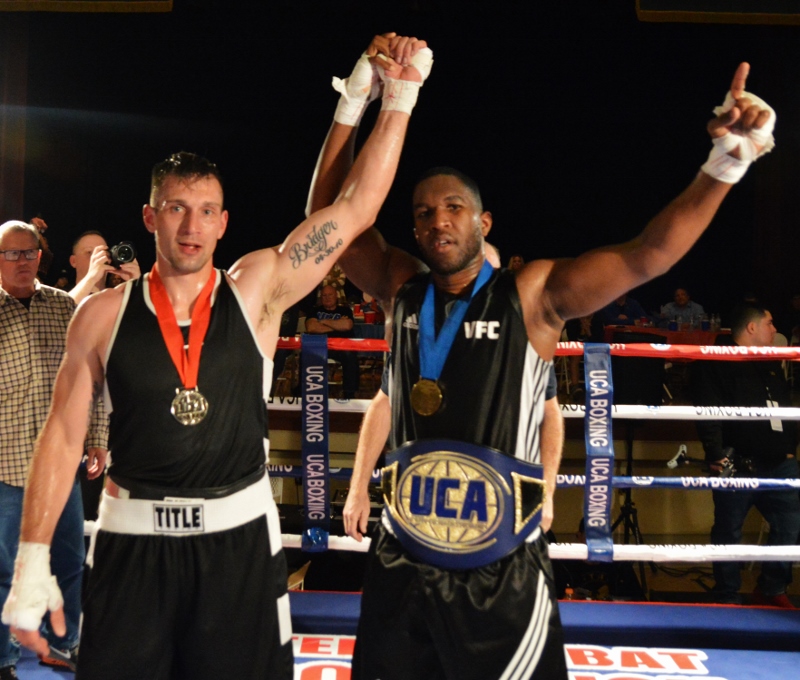 Bout 9 – UCA Heavyweight Championship Title – Josh Webb – California Highway Patrol vs. Marqus Blevins – Kings County Probation Marqus Blevins was the boxer in this equation. He jabbed well off his back foot, had quick feet, and moved his head really well to avoid incoming punches. He had a really good defense and would make Josh Webb miss with big punches early. Webb was a bull dozer. He would keep putting pressure on Blevins, as he continuously plowed his way forward. He would come forward behind a stiff jab and heavy alternating hooks. Webb seemed to always want to be right up in Blevins' chest. But Blevins seemed to always find a way to spin out of danger. Not only did Blevins have a really good defense, but his offense was quite good as well. He would back up and catch the forward fighting Webb with quick combinations on his way in. Blevins countered Webb with lighting quick right uppercuts and left hooks whenever Webb was inside. Blevins also shot and landed a short, straight right hand in close quarters. Blevins threw punches from all different angles, and his punches always came in bunches. The second round was Webb's best round. He kept backing up Blevins behind a stiff jab and straight right hand. The pressure that Webb presented was very strong and steady. Webb then had success landing his thumping, thunderous right hand on Blevins' head that would keep having Blevins on his toes. The fight was now even. Going into the third round, it all would come down to who wanted it more. Webb swung heavy leather coming forward and Blevins swung heavy leather boxing backwards. The punches never stopped. At one point, while in the middle of the ring, both fighters seemed to be fighting in a phone booth. Each of them giving and taking punch after punch, neither of them wanting to be outpointed by the other. Wow! What a great back and forth battle this was! Both fighters displayed a very strong will to win. This fight had non-stop action from start to finish. It would definitely be tough one for the judges to score. But when the decision was finally rendered, Blevins would win by a razor-close Split Decision. And he would be crowned The New UCA Heavyweight Champion.
Bout 10 Light Heavyweights – John Henderson, Lemoore Police Dept winner by disqualification over Kyle Davey, CDCR.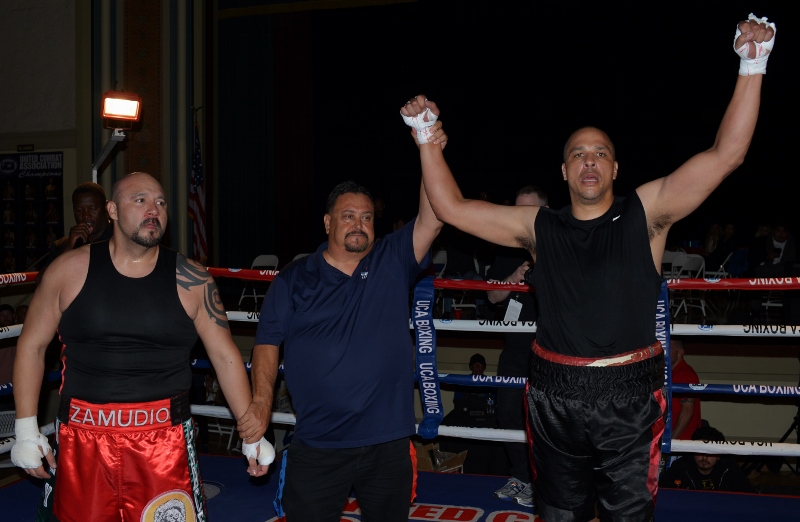 Bout 11 – Masters UCA Super Heavyweight Title Eliminator – Adam Zamudio – Fresno Sheriff's Dept.(retired) vs. David Ross – California Highway Patrol.  David Ross had at least a 6-8 inch height advantage over Adam Zamudio. His arms were way longer than Zamudio's as well. Ross did a good job of fighting tall, but he never really quite used his reach advantage in the beginning. He didn't really have to. Ross was able to pull his head up and back away from Zamudio's shorter punches. He would also take a back step or two, make Zamudio miss, and then make Zamudio pay with thudding power shots inside. Ross would throw alternating, hybrid-like uppercut-hooks that seemed to always catch Zamudio at whatever distance they fought. But Zamudio never backed down. He kept swinging his shorter punches at an upwards angle. After missing most of his shots, Zamudio would simply shake off Ross' counter combinations and just keep coming forward. Zamudio was tough and displayed a really huge heart. He kept on trying to hit his target with overhand rights. He would land a couple, but he would miss most of the others. For Zamudio , Ross was indeed a tall order. In the final minutes of the fight, Zamudio just kept doing what he was able to do. He kept on winging his punches upwards and never stopped coming forward. With Zamudio having had some success in the second round, Ross would now start to use his distance and also change levels. Ross came up and dipped low and started to land hooks to Zamudio's body as well as his head. Ross would also start to throw straight punches in a downwards motion and land them on top of Zamudio's head. But Zamudio never stopped fighting. He took everything Ross had to give him. But when the last bell sounded, David Ross was declared the winner by way of Decision.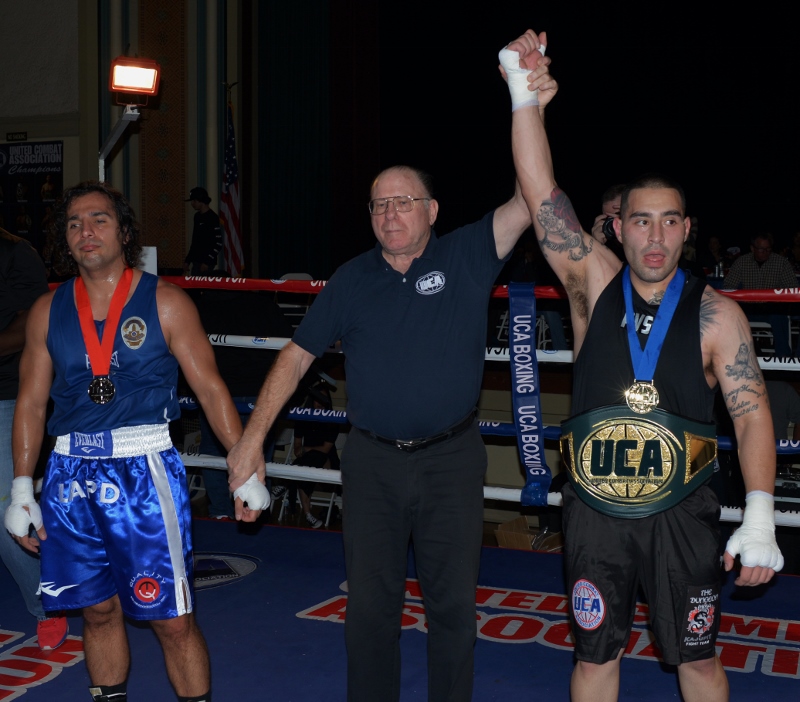 Bout 12 – UCA Super Middleweight Championship Title- UCA Champion Quincy Mirage – LAPD vs. Mike Valle – CDCR Pleasant Valley State Prison  Quincy Mirage always came  forward. He threw a hard jab and strong right hand that would snap his opponent's head back. He would have the clear power advantage over Mike Valle. Valle fought mostly off of his back foot. He threw a busy jab that would slow Mirage's momentum and break up his rhythm. He would also pepper Mirage with 3 to 5 punch combinations whenever he was in range. Valle would sometimes stop his backward motion, throw his barrage at Mirage, then get right back to boxing backwards again. Valle would always keep punching throughout. However, Mirage had a good defense. And most of Valle's punches would hit Mirage's gloves up on top and on his elbows down low. Mirage did a very good job of covering up as he continued to keep coming forward. In round two, Mirage would catch up to Valle. He closed the distance and was able to  deliver bone-crushing combinations of uppercuts and left hooks to Valle's body and head. These punches kept landing solid and clean, and really affected Valle. Sometimes all Valle could do was tie up the relentless Mirage in order to rest. Valle still kept on punching though. But now his shots seemed to be losing their steam; they'd now be a little slower and have a little less pop. But he would still keep on throwing them. And that pesky jab of Valle's just never stopped. With one round a piece, each fighter would try to close out the show in the third. Mirage would still punch pressing forward, and Valle would still counter him going backwards. When in close quarters, they each would exchange right hooks, left hooks, and uppercuts. Mirage's punches never lost their steam though. They could not only be seen but could also be heard throughout the entire auditorium. And though Valle's punches were more of the pitty-pat variety, he just kept on throwing them. Both fighters were giving it their all. Neither one of them wanting to leave any doubt. Valle would flurry, tie up Mirage, rest, and then flurry again. And behind that strong jab of his, Mirage kept on looking to land that one perfect punch that would end everything. But then the final bell sounded, and he was unable to do so. The fight was then over. But what an Awesome fight it was! What a great way to close out this night's event! This fight was super close and way too tough for anyone to easily call. But when the announcer finally read the Decision, Mike Valle was the New UCA Super Middleweight Champion.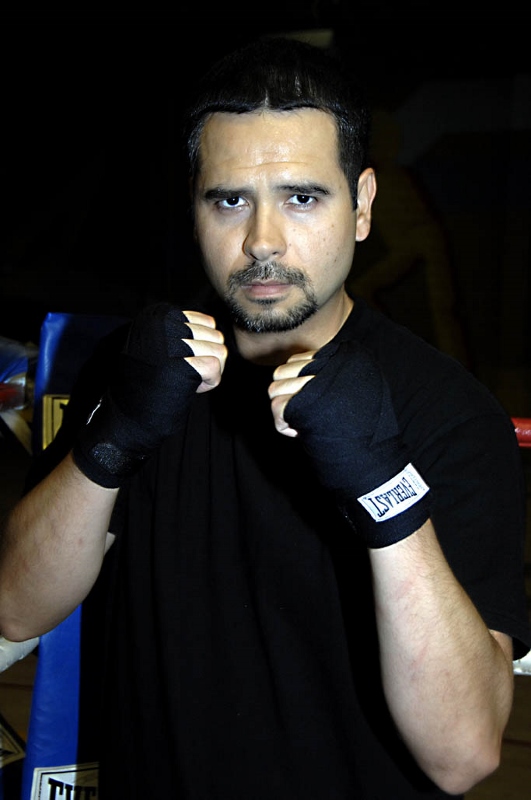 Article written by the 2X Fight of the Night winner, former UCA #1 ranked Super Middleweight and UCA Super Middleweight title challenger Aurelio Vasquez, Los Angeles Police Dept.