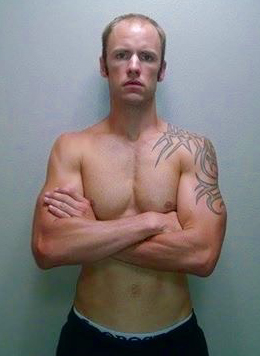 Austin Tull
Shreveport Louisiana Fire Dept
Fighting weight:170
Age: 30

1. When did you start boxing? I started boxing in 2007 in battle of the badges, a year after I started my firefighting career, and fell in love with it.
2. Who or What got you started in boxing? It was really a random advertisement for the battle of the badges that I saw that sparked my interest. Thought I'd try it out.
3. When preparing for a fight what gym do you train at? I don't necessarily train at a certain gym, although I have spent some time at Karate Mafia and Ascend Combat, I mostly do one on one training with one of my good friends that has a strong history in coaching boxing. Having a good coach is definitely key.
4. Who is your trainer? This year it was Scott Mutter. I will use him again. I have had some training from other great coaches, Health Nichols, Allen Smith, Jeff Humphries, Jake Dement, and all of those guys are boxing legends as far as I'm concerned. Scott Mutter is who I use now mainly because he is also a battle of the badges fighter and he is amazing at the mitts.
5. The best boxer you ever sparred against? I'd have to say Jeff Humphries, one of my previous trainers. The dude was like lighting. I expected for his punches to be light and quick, but he hits at 100 mph and it feels like a mule kick. His fundamentals are superb and makes him an amazing sparring partner.
6. Of all your opponents and sparring partners who hit the hardest? If I had to include sparring partners, I'd have to say Jeff Humphries could hit the hardest.
7. What do you feel is your strongest weapon in the ring? My reach. I've been told by many fighters that my long arms is a huge obstacle to overcome and fight against. Once I figured that out, I learned to utilize my reach and control the fight more.
8. What sports did you play in high school? Baseball, Basketball, Swim team, and ran Cross Country
9. What do you like to do when not training or working? I study a lot. If I'm not training or working, I try to feed my mind preparing myself for medical school in the future.
10. Favorite fighter? I'd have to say Muhammed Ali is definitely my favorite.
11. Favorite all time fight?I don't have a specific fight that I can think of that is my "favorite" but watching Ali and how agile he is has always been interesting to me
12. Favorite movie? Ha, that's easy. Step Brothers.
13. Favorite athlete? I don't know if I have a favorite one but I can remember some I love to watch and that'd have to be Jacob Hester. Always loved watching him plow through a defensive line.
14. Favorite food? Bbq for sure
15. First job? Buggy boy at Winn-Dixie
16. First car? Toyota Corolla. I believe it was a 1995 model. It had a sunroof so I was in heaven….
17. Person you most admire? My dad by far. He has always taught me how to handle situations with a calm head and always seems to have the perfect solution to a problem.