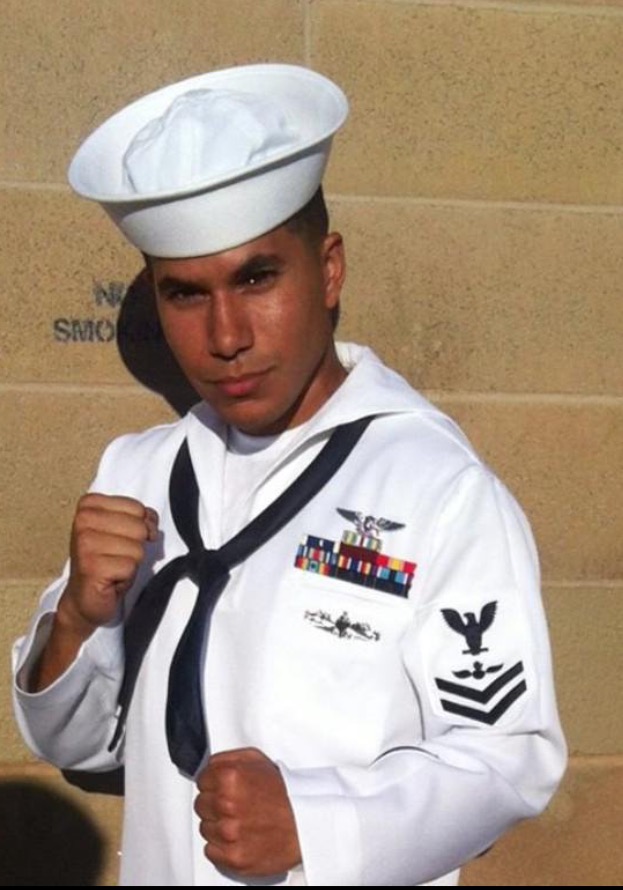 Devon Dejoie
U.S. Navy
Nickname: BAD NEWS!
Fight weight: Welterweight
Age: 30

1. When did you start boxing? At the age of 7 my uncle put boxing gloves on me and explained that a Man uses his hands, you let your opponent get up, after the fight is over you shake hands. That made me respect boxing.
2. When preparing for a fight what gym do you train at? Palafox boxing club lemoore ca. Coach palafox is a great coach that knows how to bring the fight out of you, push you to your limit and make you earn everything you get. It's important to have s great relationship with your coach because you have to trust everything he is telling you to do.
3. The best boxer you ever sparred against? One of the best boxers I have ever sparred is D.J Vargas! Very fast, very elusive & keeps you thinking & that will take you out of your game.
4. Of all your opponents and sparring partners who hit the hardest? Benjamin Dobbs, my old coach & mentor has to be the hardest puncher I have ever sparred.
5. What do you feel is your strongest weapon in the ring? I have to say my biggest strength inside & out the ring has to be my heart! I won't quit! My heart won't let me, I will fight, train, push myself to my limit & beyond! My heart will always be there!
6. What sports did you play in high school? I went to high school in Pensacola Florida and had the privilege to train at Roy Jones Jr's square ring boxing gym. Never really played other sports.
7. What do you like to do when not training or working? In my off time I watch, read & study boxing. No joke I watch boxing everyday either on YouTube or TV, I'm always on boxing news .com or fight hype.com. I even watch boxeco Azteca & I don't understand Spanish at all so I just watch. I truly love boxing.
8. Favorite fighter? I am big on the sweet science & fundamentals of boxing so I love Erislandy Lara, Guilmore Rigondeaux & Floyd Mayweather. Greatest of all time to me would have to be Roy Jones Jr. Growing up I would watch evander Holyfield and other hard hitting heavy weights, but when I saw Jones Jr. move like Sugar Ray & hit like Tyson I was amazed & will always call Roy Jones Jr. the greatest ever.
9. My favorite food? Banana's! I keep bananas in the house, before training I eat a banana with honey. Can't live without it!
10. Who I admire the most? In life is my mother! Strongest person I have ever seen in my life.
In boxing, I look up to Chris Martinez, D.J Vargas & Benjamin Dobbs. They are my older brothers in boxing. They inspire me & motivate me. Ben Dobbs is truly an inspiration in boxing. He is now an undefeated pro, he serves his country in the U.S. Navy. In the amateur's Dobbs would show up by his self & compete and go home. Determined to compete and chase his dreams, nothing stopped him. He would train anywhere he could with little help not depending on anybody, after a long amateur career he took it to the next level and is now a pro. Still serving in the navy! Miles away Dobbs still emails me training motivation, work outs & positive words to keep me pushing. Benjamin Dobbs is truly someone I look up to.