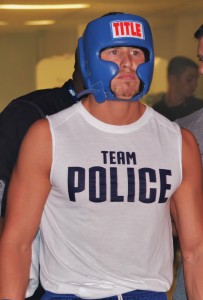 Jonathan Roberts
Natchitoches Parish Sheriffs Office
Nickname: J-Rob
Weight: 190
Age: 31
Record: 3-1

1. When did you start your career in public safety? 2007
2. When did you start boxing? May 2015
3. What got you started in boxing?
Aspired to do Battle of the Badges, also wanted know that I could better handle myself, self respect, and to be able to pass along the knowledge to other co workers that could help them protect themselves.
4. What gym do you train at when preparing for a fight? Basic Health and Fitness Natchitoches La
5. Who is your trainer? Kelvin Samuels
6. Who is the best boxer you ever sparred against? Kelvin Samuels
7. What does a typical training day consist of for you? Start @8am, warm ups circuits (ring rotations, shadow boxing, jumping jack/high knee intervals) slip rope, speed bag, heavy bag, push-ups, sliders, 2 mile run. Maybe that evening come back for light weights.
8. Favorite fighter? Canelo Alvarez
9. Favorite all time fight? Rocky 4
10. Favorite movie? Rocky 4, Green Mile, The Patriot
11. Favorite food? Jambalaya
12. First job? McDonalds
13. First car? 1991 Chevy 1500
14. What do you like to do when not training or working? Spend time with my 3 year old daughter and wife.
15. Person you most admire? Father