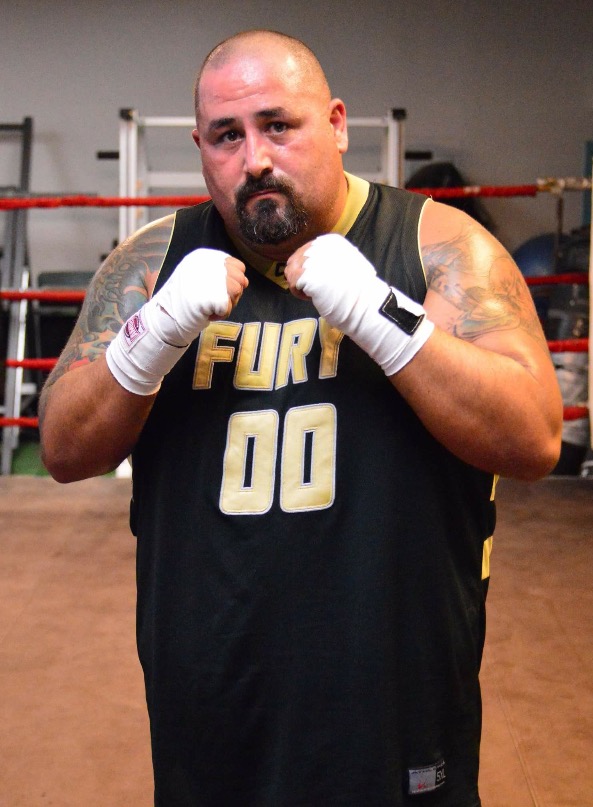 Matt Eleopoulos
D.A. Investigator – Solano County District Attorney's Office
Nickname: "Wrecker" – Actually non-boxing related
Weight: 300
Age: 40

1. When did you start your career in public safety? 2000 – Suisun City Police Dept. / 2006 – Solano County D.A.'s Office
2. When did you start boxing? I started training in August 2015
3. What got you started in boxing? Was always interested in boxing, needed to get back into shape.
4. What gym do you train at? Reverend Pain's Nor-Cal
5. Who is your trainer? Jeff Lele'a
6. What does a typical training day consist of for you? Warm ups, speed bag, heavy bag, mitt work, sparring, jump rope, running hills.
7. Who is your Favorite fighter? Much respect to anyone who can call themselves a boxer….but I have a special place for Butterbean.
8. Favorite movie? Any sports movie or good comedy but "Waiting" is in my top 2.
9. Favorite book? Stalemate
10. Favorite food? Vasquez Deli – Vacaville, CA or Dave's Giant Hamburgers – Fairfield, CA
11. First job? Busboy / Waiter.
12. First car? 1969 Olds Cutlass Supreme
13. What do you like to do when not training or working? I played and coached Semi-Pro Football from 1997 until 2015. (Solano Chiefs, River City Royals and Capital City Fury) Now that I'm "retired from football" I like to spend time with my wife and two sons. I currently coach both of them in Football and my youngest in Soccer.
14. Person you most admire? My Father, George Eleopoulos