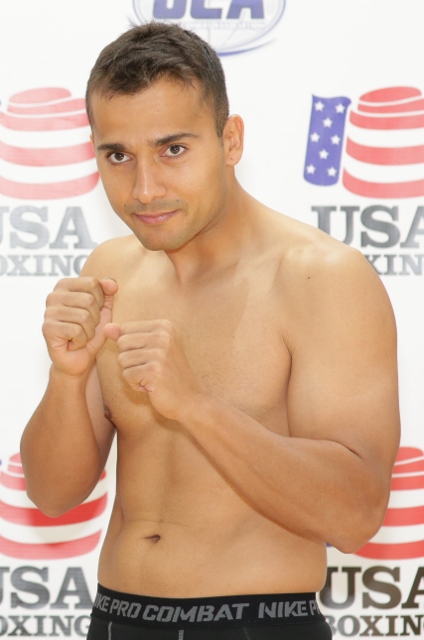 Quincy Mirage
Los Angeles Police Department
Nickname: "The Machine"
Weight: 160
Age: 36
Record: 7-4

1. When did you start your career with the LAPD Communications Division? I started in June of 2001
2. When did you start boxing? I started full-contact boxing in November 2011, but I had always worked on heavy bags. Sadly, I was doing so without proper form and technique.
3. What got you started in boxing? Boxing has always been near and dear to my heart. I grew up on the Rocky series and one of the many professions I wanted when I was a little kid was to be a professional boxer. But my parents had different plans for me. Looking at it in retrospect, they probably saved me a ton of brain cells. The catalyst that got me to step into the boxing gym was when I got a DUI. When placed under the burden of that stress I needed to find a healthy outlet otherwise I could have easily resorted back to alcohol and cigarettes.
4. What gym do you train at? I train at City of Angels Boxing Gym along side the rest of the LAPD Boxing team. The gym is located about one mile away from the USC Campus. They've got a friendly staff there. They're practically like family! They are always helping us improve. If our coaches/trainers cant make it due to their work schedule or whatever, Alex Brenes, Eddie Hernandez, and Zach Wohlman will work with us and critique or fine tune any mistakes they see. City of Angels also has an amazing stable of amateur fighters that are always willing to get in the ring with us to help us with sparring
5. Who is your trainer? Our head trainer is Jorge Gonzalez and our assistant coach is John Negrete. Jorge Gonzalez's father occasionally shows up to our practices and offers his insight as well. Jorge's father coached Jorge throughout his amateur career, so he has a wealth of knowledge to offer
6. The best boxer you ever sparred against? The best boxer I ever sparred against was Zach Wohlman. He's a professional boxer who trains at the Wild Card Gym under Freddie Roach. Even though he was going easy on me he definitely rattled my cage.
7. What do you feel is your strongest weapon in the ring? I think my strongest weapon is the ability to remain calm and control the pace of the fight.
8. Favorite fighter? My favorite retired boxer is Micky Ward and my favorite active fighter is Gennady Golovkin
9. Favorite all time fight? The best all time fight was Ward vs Gatti I, I've watched that fight over a hundred times.
10. Favorite movie? I don't want to say anything cliché like Rocky IV or The Fighter, even though they're on the top 10 somewhere. My favorite movie of all time is Without Limits
11. Favorite place to eat? My favorite place to eat is in the city of Boston. It's called Neptune's Oysters. It's definitely a must if you're ever in that town. It's in the historic North End, and the wait is at least an hour. It should be a "must-do" on everyone's bucket list
12. First job? My first job was at Hoagie Yogi. It's a sandwich place, similar to Subway.
13. First car? My first car was a 1997 Ford Explorer, I was the only one of my friends at high school with a bigger car so I was always encouraged to drive my group of friends around
14. What do you like to do when not training or working? I like to travel, particularly to Boston for Patriot or Red Sox games. But since recently I've been wanting to travel abroad Hopefully next year I can travel to Spain or Australia.
15. Person you most admire? That's a tough question. There are a lot of them, but the first one that comes to mind is Michael Anthony Monsoor. He was a Navy SEAL that was killed in Ramadi, Iraq. He dove on top of a grenade to save two fellow SEALs.
Micky Ward is the next one to come to mind. Particularly his humility and is lack of interest to talk smack or show boat. He never let fame or money affect who he was.