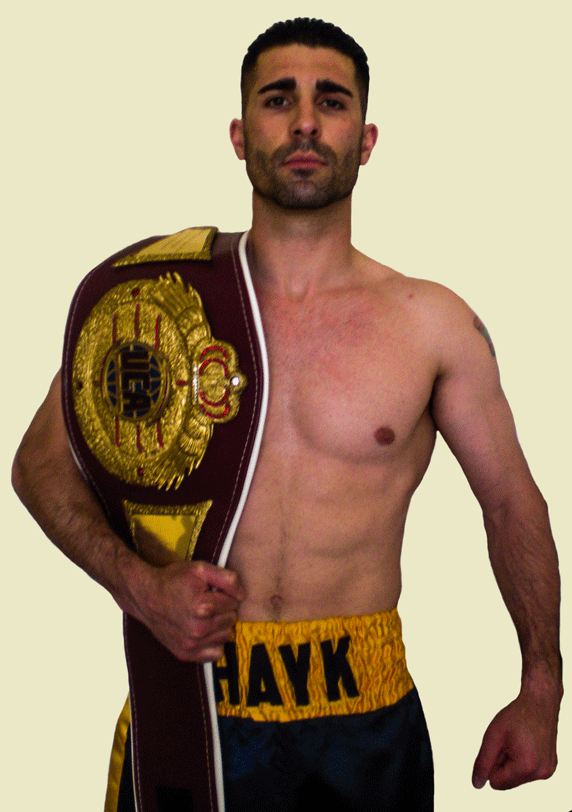 Shant Sheklanian
Department: Madera Police Department, I also am an instructor at the Fresno Police Academy which is a second job. At the MPD I am a violent crimes detective, a swat team operator, a use of force instructor/ range master and a recruiter. At the academy,  I am a physical training instructor and have recently been assigned to be the next RTO or Recruit Training Officer for the next academy night class.
Nickname: Everyone calls me "Champ Time" and they have since I was a teenager… Long Story lol
Fighting weight: 140
Age: 32
Record: 6-0

1. When did you start boxing? 04-15-1996 is the first day I walked into the Ringside Boxing Gym in downtown Fresno. I was 13.
2. What got you started in boxing? I always loved football and wanted to play but was way too small. I weighed like 90 pounds in junior high so I tried wrestling but didn't care for it as much as I hoped I would. I wanted to be involved in contact sports and found out about the boxing gym. I went in and the rest is history like they say.
3. When preparing for a fight what gym do you train at? I train at the Thrive Training Center in Fresno. I also have training sessions at my coach's homes who have gyms set up in their garages. My coach Brian Williams' home gym is truly a sight to behold. It is awesome and a true honor and pleasure to train there.
4. Who is your trainer? My main coach is Coach B, the one and only Brian O Williams. He is assisted by his right hand man Trinidad Valdez who is an incredible man. Coach Valdez will take you into deep water every time, guaranteed. I am also fortunate to have my mentor Bobby Minerva in my corner for each fight. He is my big bro and has a ton of experience which he passes to me. He is huge in helping me make weight and getting me mentally prepared to compete.
5. The best boxer you ever sparred against? That would be the undefeated, Top Rank promoted, up and coming pride of our gym, Smokin Joe Louie Lopez. He is a very skilled boxer who is truly dedicated to his craft. He is a fighter to keep your eye on.
6. Of all your opponents and sparring partners who hit the hardest? Won't answer.. too proud to say lol J
7. What do you feel is your strongest weapon in the ring? I am a student of the sport and have been since I was a teenager. I believe my best asset in the ring is my boxing IQ. I make it a point to study my opponents. I have a strong working knowledge of how different styles mesh with others in that ring and am aware of the adjustments that may become necessary during a bout. Another thing I am blessed to have is strength and power. Before I started boxing again, I was a accomplished power lifter and competed at the national and international level on multiple occasions. The strength God has blessed me with sure comes in handy when I'm trading punches with people lol.
8. What do you like to do when not training or working? Shooting guns, trying to catch bass and going to church. My favorite thing is simply to be with my beautiful wife and my son. Family is life's greatest blessing.
9. Favorite fighter? There are too many to name. Just to rattle off a few. Sugar Ray Leonard, Oscar De La Hoya, Alexis Arguello, Arturo Gatti, James Toney, Evander Holyfield, Nonito Donaire, Miguel Cotto, Diego Corrales, Ricardo "Finito" Lopez, Juan Manuel Marquez, Pac Man and many more.
10. Favorite all time fight? Again I can't pick just one. A few classics that come to mind are Bowe-Holyfield I, Gatti-Ward I, Corrales-Castillio I and Arguello-Pryor I.
11. Favorite movie? Rocky 2
12. Favorite athlete? My favorite athlete is Manny Pacquiao. Not so much because he is an all time great but more so because of how humble he is. He is an inspiration to millions of people and most importantly he gives back. Professional athletes, especially ones that become millionaires, should always use their fame, influence and fortune to help people. That is a true measure of not just a great champion but a great man.
13. Favorite food? ARMENIAN FOOD!
14. First job? My first job was delivering newspapers when I was eight years old. I pretty much always had a job since I was a young boy.
15. First car? My first car was a 1988 Ford Thunderbird LX.   I worked all summer selling newspapers door to door on commission only. I saved every penny until I had $1000. When I bought that car I couldn't have been happier. Even though it was pretty much a pile of junk, it was mine that I paid for. I would drive that thing like it was a Rolls Royce.
16. Person you most admire? The Savior Jesus Christ and my mother who raised three kids by herself.